8 Compelling Reasons Why You Need ERP Solution Today!
Many small to mid-sized companies believe that they can do without an ERP system. They believe that their operation is simple enough that they can control it with a few spreadsheets or just plain out- dated financial software. So if you are an ambitious company here are some of the most compelling reasons to implement an ERP system.
1. Real-time information for decisions
Without an ERP system, your team is flying blind. They make decisions based on guess work or 'gut feel' if they don't have the data they need. Sometimes they are the right decisions, but more often, they are sub-optimum decisions that can cost you money and customer dissatisfaction.
2. Best practice procedures
Software companies design their ERP systems to support specific industries or verticals. As they add customers, they learn industry best practices and incorporate them into the software. By implementing an ERP system designed for your industry, you automatically make your business processes more efficient & effective.
3. Improved visibility
If customers want to know when their order will ship or if you need to know whether you have enough of stock or components to accept a rush order, an ERP system gives you instant visibility into your operations and your supply chain.
4. Faster month-end close
ERP systems automatically process transactions and generate audit trails and financial reports that can simplify period-end closings. They flag anomalies so you can investigate quickly, and they simplify repetitive journal entries and other activities that make closing so complex and time consuming. Faster closes mean you know the health of your business sooner.
5. Increased customer satisfaction
Customers like accurate delivery dates, and an ERP solution can help you provide up with real-time stock information & delivery schedules.
6. Managed and controlled costs
ERP systems calculate and collect costs so you always have an accurate picture of your cost and margins.
7. Better operational efficiency
By helping you to plan more effectively, your operational efficiency will improve.
8. Accurate records
The uniformity of record data that an ERP system instills will help ensure that your records are more accurate, which will increase process accuracy across the board and cater for legislative needs
Introducing SAP® Business One
SAP Business One
is a cost-effective, easy to use & implement, comprehensive business management solution, catering to the requirements of small & midsize enterprises. It helps SMEs to boost profitability and automate their entire business processes.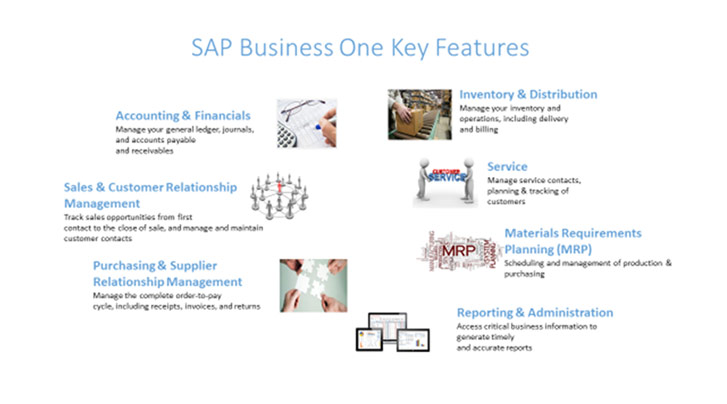 Business Benefits of SAP Business One
Streamlined business processes and help ensure efficient and effective operations
Core business needs in a single, integrated software solution that can be expanded as your business grows
Achieve greater peace of mind knowing your business is supported by SAP software
Gain faster time to value by using software that can be implemented quickly at a fixed price
About Silver Touch
Silver Touch is a partner of SAP and has expertise in 15+ industry verticals. Silver Touch has 90+ successful SAP Business One implementations with 100% delivery record over the last seven plus years. We are always on hand to support you with our SAP
®
Business One experts. This is provided by our 24/7 support center. We pride ourselves on achieving customer satisfaction, since the cornerstone of our success lies in building long-term relationships with our clients ensuring successful use of Business One.
For further information or a free demo on SAP Business One, please contact us on 0127 736 4689 or email us at info@silvertouch.com