9 Stages of Successful SAP ERP Implementation
SAP ERP solution is one of the most integral parts of your business. It can help you optimise your business processes, accelerate growth and boost efficiency by cleverly producing easy-to-understand trends.
If done right, an ERP implementation can make your day-to-day operations swift and seamless. This is not all. It can also improve the reporting mechanism and provide you with insights that can enable you to make informed decisions that are in favour of your business.
As appealing it may sound, implementing the right SAP Business One ERP solution isn't that easy. In order to get the most from your ERP solution, you must ensure it is ideal for your business. If you're unsure about your ERP implementation, here we share the 9 stages or steps for successful implementation of your ERP software:
Step 1: Identify Your Primary Objectives
SAP ERP has over 165 different functions — most ranging from accounting to manufacturing and inventory management. Thus, in order to utilise the full potential of your SAP ERP implementation, you must define the main goals you want to achieve with your software.
Are you seeking to track your inventory? Or, you want your ERP to manage your employees? Whatever your goal is, make sure you have clear Key Performance Indicators (KPIs) to measure the efficiency of your ERP.
Step 2: Pick Your Team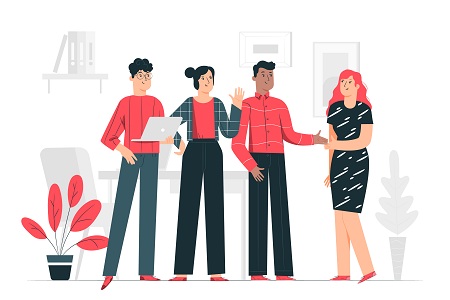 Your ERP implementation can significantly influence your entire organisation. Thus, preparing a proactive team for managing the solution is important before getting started with your ERP. Ideally, you want people who are good at communication to ensure seamless operation of your ERP.
Apart from this, you may need to train your staff so that they can easily run and maintain the software as required. Thus, it is important the ERP you choose is easy to manage and operate. A good practice would be to hire a project manager if you don't already have one. They can help you seamlessly manage your ERP implementation and drive informed decisions through it.
Step 3: Selecting an Ideal ERP for Your Business
About 33% of business owners who bought an ERP did not take a demo before investing their money — reports Capterra. That's a staggering number. You don't want to invest in a software you barely know anything about. Taking a demo will help you understand whether a software will be able to fulfill your needs.
You may consider taking help from an ERP consultant who can guide you through the process of selection. Furthermore, you should also check the reviews left by other users on independent websites like G2. Doing so will help you select a software that will be perfect for your business needs.
Step 4: Data Transition
Once you have identified an ideal solution, it's time to move your business processes and operations to your ERP. While most software's come with easy import/export options, the migration process can still be challenging if you are dealing with data on a larger scale.
In order to seamlessly transport all your crucial data to your ERP, prioritisation is important. In fact, you should only transfer the necessary and important data to your software with the utmost care and consideration.
Step 5: Building Infrastructure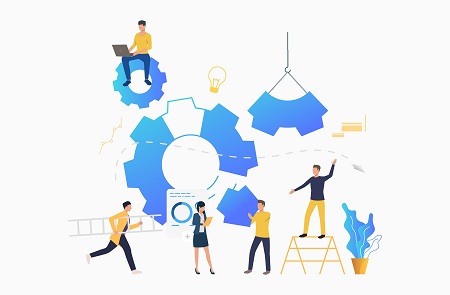 Preparing your company for implementing an ERP is one of the most intricate steps of the entire process. A popular research by Mint Jutras reports that 23% of businesses fail to grow as quickly as they had expected because their ERP wasn't efficient enough.
This makes it extremely important to ensure your ERP is highly scalable and incorporates all the essential functions you will ever need. Consider ensuring your software's compatibility with various third-party integrations as you may need them along the way.
Step 6: Customisation
SAP ERP software are developed with intensive research and are tailored for a specific industry/domain. However, there may be times when you need extra features on top of the existing ones. This is when you will need to customise your software per your needs.
Will your software be able to adopt new features seamlessly? How will the customisation be? Here, you may need to seek professional help from a company offering ERP implementation services. This being an intricate step, you must be very considerate.
Step 7: Testing Your ERP System
Testing is an extremely important step of every successful SAP ERP implementation, be it SAP Business One or Oracle NetSuite. Many business owners overlook this step and later pay the price for it.
A thoroughly tested ERP system goes a long way in helping you streamline your business processes. If you don't have an extensive IT team by your side, you may consider hiring dedicated resources for testing your ERP. It will be worth the investment.
Step 8: ERP Deployment
Finally, here comes the step you had been looking forward to for a long time. When you have all the testing done, employees trained, and data transferred, you're good to go! Upon deploying the ERP, you may encounter a few issues related to your processes. Be flexible with your approach and stay keen to the issues.
Step 9: Evaluation & Process Optimisation
Once you start running your ERP implementation, it's important to keep an eye over its operations. Collect feedback and seek ways to optimise the processes so that they deliver maximum results while consuming minimum resources.
Final Words:
Implementing an ERP is indeed a comprehensive process requiring utmost consideration. Even the tiniest error can cost you a good part of your resources. However, our 9 step guide will go a long way in helping you deploy a successful ERP implementation.
If you're still having a hard time deciding which ERP to go about and how to follow through this process, feel free to get in touch with us. Our ERP experts will be happy to help you select and deploy a solution that will fit right to your business needs.