Data Visualisation – telling your story in pictures!
Enormous quantities of data go unused or underused today, simply because people can t visualize the quantities and relationships within the data. As businesses collect more and analyse more and more data, decision makers at all levels need data to be presented visually in a way that enables them to see analytical results presented in a way they can understand, find relevance among the millions of variables, communicate concepts and hypotheses to others, and even predict the future.
We all relate to the saying 'a picture paints a thousand words' and so if we can present data in a manor we can relate to, it is easier to understand what the data is telling us.
Data visualisation is the presentation of data in a pictorial or graphical format. For centuries, people have depended on visual representations such as charts and maps to understand information more easily and quickly.
Our Brains Are Wired for Visuals
Did you know?
65% of information is remembered by people 72 hours after exposure when a picture is added
30% of the cortex is devoted to neurons processing visuals
It takes only 150ms for the human visual system to process a complex natural image
Business insights, complex facts in a visual format can be recognised faster
SAP Lumira and SAP Crystal Dashboard Design are some of the tools used for data visualisation. These tools allow businesses to analyse data and share insights easily by creating beautiful and interactive maps, charts, and infographics. You can easily combine data from different sources, visualise it, analyse trends and thus get insights for future planning.
SAP Lumira
Bring your data to life with SAP Lumira – data visualisation software that makes it easy to create beautiful and interactive maps, charts, and infographics. Import data from Excel and many other data sources, perform visual BI analysis using intuitive dashboards, and securely share insights and data stories with your team.
SAP Lumira is a self-service, data visualisation application that enables businesses to visualise the massive amounts of data available to drive immediate business outcomes. It offers the fastest and the most engaging ways to get answers from your data. SAP Lumira is wherever you need it, be it on the Desktop, Server or Cloud, enabling better-informed, data-driven business decisions right away!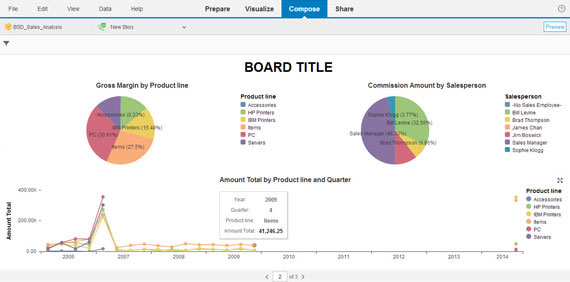 Benefits:
SAP Lumira allows businesses to create amazing data visualisations and infographics to analyse their data at great speed.
It allows you to pull data directly from company sources and personal sources, bringing them together in an understandable way, giving you a single view and answering your questions quickly without any dependency on IT staff.
SAP Lumira offers tools to prepare data the way you want, helping you save your precious time and facilitating tedious yet important tasks. You can easily bring transformations into your data without the need of any code or scripts.
You can use the visualisations offered by SAP Lumira to get real-time insights about your business and stakeholders through an engaging drag-and-drop interface, thus supporting and enhancing your iterative thought process.
The SAP Lumira platform, gives you analytics to communicate and share insights with minimal time and effort.
SAP Lumiras easy to use interface and beautiful visualizations help businesses analyze data quickly to discover unique insights, thus giving boost to business agility.
You can easily visualise any amount of data whether big or small in real-time without compromising with the performance or security. You can even explore the possibilities of data by creating interactive storyboards.
SAP Crystal Dashboard Design
SAP Crystal Dashboard Design enables the creation of insightful and alluring dashboards from any data source with point-and-click ease. You can take control of your complex data and give it a meaning through this tool. You can easily turn your raw data into intuitive and interactive dashboards, thus helping you get a thorough understanding of your data.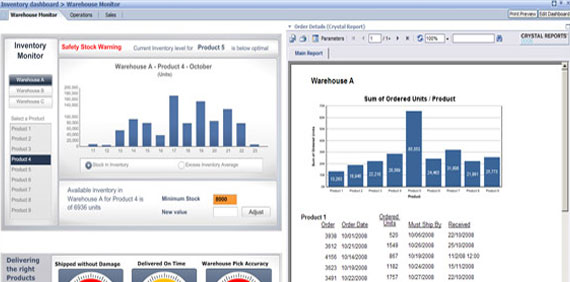 Need a better picture for the blog
Benefits:
You can combine your key metrics and information from different sources into a single dashboard through SAP Crystal Dashboard Design to optimize performance monitoring of your business.
SAP Crystal Dashboard Design has the capability to transform your corporate data into better business results with visualizations, making it easier for your business to consume and understand data.
You can even improve the strategic planning of your business by conducting a what-if analysis on real-time data through SAP Crystal Dashboard Design's predictive modeling, giving you a peek into the business trends.
It also helps a business to share information that saves time and money through the use of its existing tools like Microsoft Office applications, making information available to all.
You can connect your dashboard to any type of external data sources for better analysis and results.
SAP Crystal Dashboard Design makes it easier and faster to create data presentations and dashboards from various sources through improved workflows, data connectivity and integration features and flexible design and customisation options.
At Silver Touch we can help you boost your Business Growth. We specialise in providing end-to-end SAP Business One and SAP HANA solutions that will enhance business efficiency and improve ROI, resulting in increased business growth. We deliver end-to-end SAP Lumira and SAP Crystal Dashboard Design implementation and customisation services. We can help you to meet your SAP Business One analytics needs through the use of these tools, which will facilitate improved decision-making and obtain a better ROI.
Please get in touch with us to find out more. Call us on +44 – (0) 203-872-5140 or email us at info@silvertouch.com