How to Hire Dedicated Mobile App Developers for Your Business App?
Getting a brilliant app idea is hard, but finding a reliable app development partner is harder. It is fair to mention that out of over 23 million developers across the web, desktop, and mobile app domains, if you fail to choose the right ones, your business will suffer a lot.
Having this thought in mind, here we give a step-by-step guide to hiring app developers for your upcoming app project. We will start from scratch and dig deep to address your confusion related to hiring dedicated app developers.
1. Identify Business Needs
This is the first and foremost step. Before you opt for developing a business mobile app, it is advisable to ask some questions to yourself like
Which are the business goals would I like to achieve?
For any business, there are certain goals that entrepreneurs or business owners want to achieve. These goals may include automation in processes, digital transformation, or improving customer services for branding. After defining the goals or objectives you can make the strategy for mobile app development. This strategy has various aspects to cover like feature requirements, budget, and app development options.
It is better to outsource app development project if your company is based in the USA, Canada, or European countries. Outsourcing app project can save a lot of time, effort, and money. If you want to hire mobile app developers, you need to choose a reliable and reputed app development company.
2. Find app development companies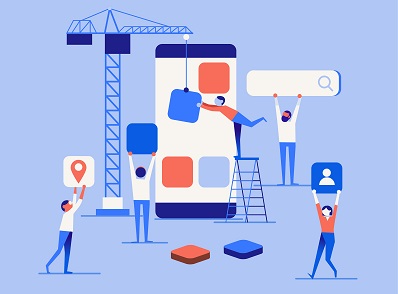 Image Source:
After making the list of objectives and think about the features of your business app, it's time to find mobile app development companies. How can you do it? Well, first of all, you need to select the outsourcing destination. India, Ukraine, and the Philippines are the most suitable candidates for it.
India has an upper hand over these destinations because of cheaper hourly rates and skilled resources. As per Evans Data Corporation, India will overtake the US by the number of app developers by 2023.
Here, it is fair to mention that you need to find the mobile app development companies that offer end-to-end development services. For example, you should get app design, development, customization, and marketing services under one roof.
Also, if you want to come up with a cross-platform app (which is more cost-effective than native apps), then you need to find the company that provides Flutter app development and React Native app development services.
These days, all the information about the app development companies is available online. You can go through B2B directories, blogs, design websites, and even websites of various companies to find the potential developer. This step needs a lot of research because here you initiate the process of selecting the right app development partner for your upcoming project.
Also Read- Top Benefits of RPA Bots and Tips to Ensure Successful RPA Implementation
3. Shortlist development companies
Okay. So you have found many mobile app development companies, right? It's time to make a list of candidates and analyze them for shortlisting. Here, you need to do some homework for preparing a questionnaire for the companies you have found. Answers to these questions will help you shortlist the candidates.
Though the questions may vary as per different needs, the following questions should be a part of your questionnaire-
• What is the average experience of your app developers?
• How many projects you have completed since the inception of your company?
• Have you made an app similar to my app in the past?
• Can I have a list of your past clients to whom I can contact?<
• Which are your domains of expertise?
• How do you safeguard the client's confidential data?
• What is the guarantee for app quality?
You can also go through the portfolio, case studies, and available testimonials to find reliable mobile app development companies. Some entrepreneurs prefer to ask their peers for proper guidance.
4. Hire the best development partner
Here we enter into the final step of the hiring process. After shortlisting all the candidates, you need to focus on finding the right one for your app project. You can note down all your findings and make a list of points that you want to clarify with your shortlisted companies. These points can be anything like whether your company can sign an NDA or offer flexible engagement models.
These days, many app development companies tend to give free quotes based on features. You can compare these quotes to find the most suitable app development company. Hourly rates of developers also matter when it comes to hiring app developers.
The mobile app development process demands a lot of investment in terms of time and money. You need to find the mobile app development company that provides 360-degree app solutions for a long time.
The entire process of finding and hiring app developers need careful planning and a focused approach. It is a decision that can make or break your company's online reputation.
Hope this concise yet comprehensive guide will help you hire the best app developers. Just keep these points in mind to get an edge over your peers through a seamlessly-performing, user-friendly business app.
Wrapping Up
Hiring mobile app developers can be the most cost-effective and efficient way to build mobile-driven business solutions or get an enterprise mobility solution. All you need to find a professional and reputed mobile app development partner that offers 360-degree services across Android, iOS, and cross-platforms including Flutter, Xamarin, and React Native.
Do you want to hire app developers for creating a feature-rich and future-ready enterprise app? We, at Silver Touch Technologies USA, offer you highly flexible engagement models to hire some of the most talented mobile app developers at competitive rates. Look no further! Simply drop us a line or two at info@silvertouch.com and we will get back to you soon.