Guide to SAP Business One Sales App
With the SAP Business One Sales app, you can work with activities, view business content, manage customer data, monitor sales opportunities, and much more.
Key features:
Activities – View, add, edit, close, and create follow-up activities of the user who is currently logged on to the mobile app.
Customers – Access and manage customer information including addresses, phone numbers, and contact details; view historical activities; create new customers and new activities; and contact or locate partners.
Items – Monitor inventory levels and access detailed information about your products, including sales price, available quantity, product specifications, and pictures.
Sales documents – Create, view, update, and search for sales quotations and sales orders. In addition, you can create, update, view, and close activities related to sales documents.
Sales Opportunities – Create, view, and search for sales opportunities; view, add, and edit stages of sales opportunities.
KPI and Dashboards – View predefined KPIs and dashboards (sales analysis and recommendations) in normal and full-screen mode.
Attachments – View, download, and upload attachments (photos) to customers, items, activities, sales opportunities, and sales documents.
Using the SAP Business One Sales App
Firstly tap the SAP Business One Sales app and once you have logged in the home screen will appear.
You can view the recent activities for today s date and the activities for the following 4 days. You can see each activity s priority based on the colour you configure for it, for example Red top priority, Green Normal and orange low priority.
By tapping the "Sync" icon it can synchronize the activities in the SAP Business One Sales app to your phone calendar. The Sync calendar function allows you to synchronize your activity from today to one 15 days prior or later.
The following options are available at the bottom of the home page screen:
Tapping the Home icon displays the home page of the SAP Business One Sales app
Tapping the Customers icon opens a list of customers
Tapping the KPI (Key Performance Indicator) icon opens a performance dashboard
Let s take a look at the KPIs you will see on the screen or "Dashboard":
Potential amounts of open opportunities
Sales Order amount for the current month
Your top 5 customers
Your top 5 best-selling items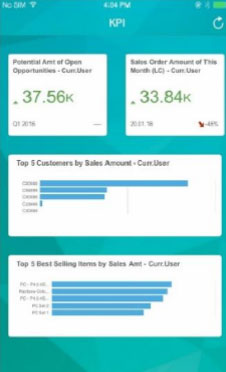 When you tap any of the buttons in the KPI screen, you find that a detailed report is displayed with further information.
So now you can manage all your sales opportunities from your iPhone or iPad wherever you are and at a times that suits you!
Please Note The SAP Business One Sales app supports iPhone ONLY, however the Android version will be launched soon. The SAP Business One Sales app is relevant for SAP Business One, version for SAP HANA only. If you would like to find out more about the SAP Business One Mobility Solution or SAP Business One, please call us on +1 (201) 331-9818 or email us at info@silvertouch.com
Silver Touch Technologies is a SAP Business One partner that is certified and authorised to sell, install, and implement SAP Business One.