SAP Partners with Apple to Innovate Mobile Work Experience
Recently, SAP announced an exciting partnership with Apple to drive stronger co-innovation in enterprise mobile apps.
Both companies are working to transform the mobile work experience for enterprise customers of all sizes, combining powerful native apps for iPhone and iPad backed by the powerful capabilities of SAP HANA.
As mobility in the workplace continues to expand rapidly, the explosion of the digital landscape and data-driven cloud apps are quickly becoming the dominant interface. In some industries, the demand and growth for mobility are already very high.
This joint effort will also deliver a new iOS software development kit (SDK) and training academy so that developers, partners and customers can easily build native iOS apps tailored to their business needs.
SAP plans to first introduce native iOS apps for businesses in retail, healthcare, asset-intensive industries, and professional services.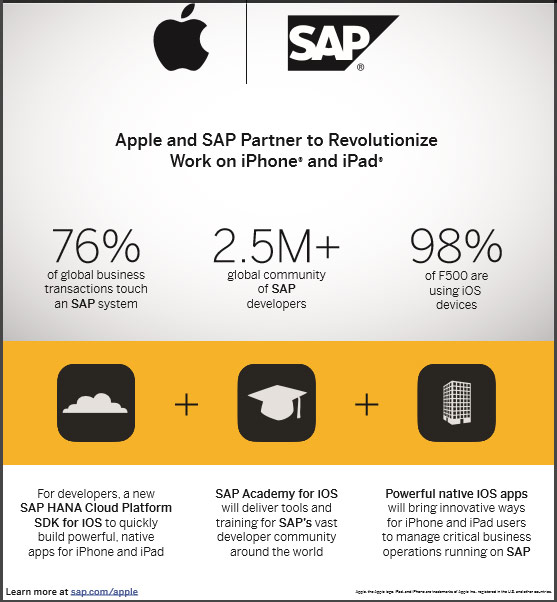 A new SAP Fiori for iOS design language will take the award-winning SAP Fiori user experience to the next level by combining it with a consumer-grade iOS experience to deliver on the robust user needs in the enterprise and enable developers to build next-generation apps.
To help SAP's 2.5-million-member global developer community take full advantage of the new SDK and Apples innovative hardware and software, a new SAP Academy for iOS will offer tools and training. The new SDK, design language and academy will begin rolling out before the end of the year.
As a part of the partnership, SAP will develop native iOS apps for critical business operations. These apps for iPhone and iPad will be built with Swift™, Apple's modern, secure and interactive programming language, and will offer a familiar user experience with the SAP Fiori for iOS design language. Workers across industries will be empowered to access the critical enterprise data, processes and user experience they need to make decisions and take action right from their iPhone or iPad through apps designed to enable a field maintenance worker to order parts or schedule service, or a doctor to share the latest patient data with other healthcare professionals.
As a market leader in enterprise application software, SAP helps companies of all sizes and industries run better. From back office to boardroom, warehouse to storefront, desktop to mobile device – SAP empowers people and organizations to work together more efficiently and use business insight more effectively to stay ahead of the competition.
To find out more about SAP contact us on +44 – (0) 203-872-5140 or email us at info@silvertouch.com to see how we can help you run your business better.
Silver Touch is an SAP Business One Consulting partner and has expertise in 15+ industry verticals.