Omni-channel Retailing- Why Does Your Business Need It?
Online presence is a must for the modern retail business. Entrepreneurs tend to implement omni-channel retailing in their business to stay ahead of the curve by providing seamless integration across multiple devices to their consumers. It is fair to mention that it is of vital importance to adopt an omni-channel retail strategy to expand your retail business and make it customer-friendly.
Here we give ten use-cases of omni-channel retailing that will give you an answer to the question- Why does your business need an omni-channel retail strategy these days? Let's look at some big brands that fly high by offering an omni-channel experience.
Disney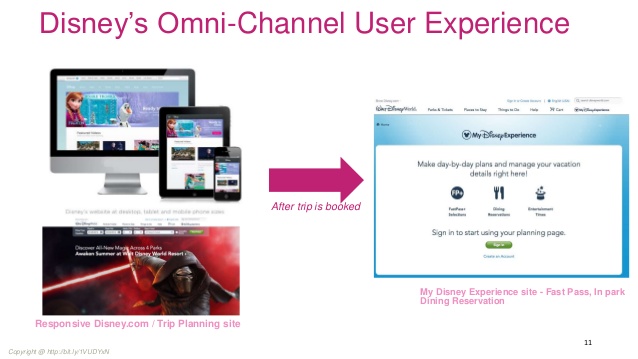 Image Courtesy: EngineerBabu
This company has made everything right in implementing an omni-channel experience. It s trip planning website runs seamlessly across various platforms like mobile, tablet, and desktop. What's more, it offers a flawless integration across all the devices along with excellent synchronisation and appealing interface. Its Magic Band program is an advanced solution as well. It can act as a key to the hotel room, food ordering tool, and photo storage device for any of your pictures taken with Disney characters.
Starbucks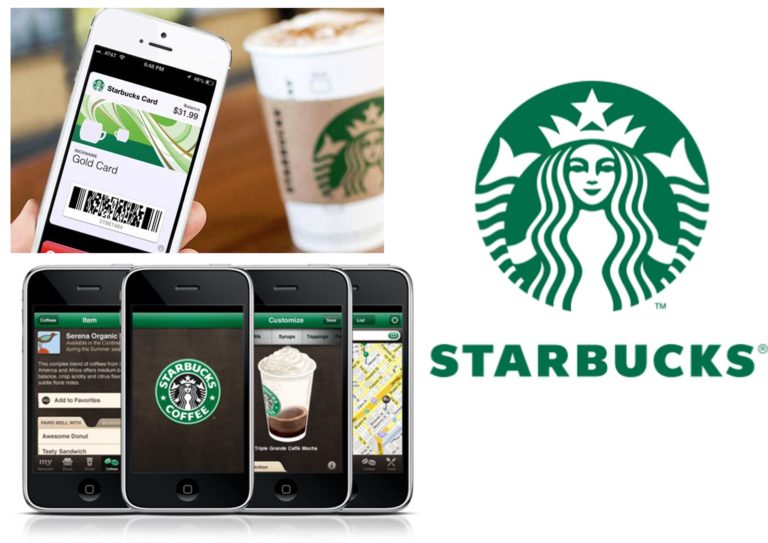 Image Courtesy: EngineerBabu
This renowned brand has also leveraged the benefits of omni-channel retailing. What will happen if you realise that you do not have enough balance in your account while standing in a queue to get the morning cup of coffee? Starbucks has made it possible to reload your card through phone, website, app, or in-store. Your profile gets a real-time update across all channels once you charge the card.
Virgin Atlantic
This company provides a personalised service experience to its customers. If any of their customers had a poor experience in the past, Virgin can give a personalised touch to reassure them. The company's employees work seamlessly to provide a pleasant experience across all channels, and this reflects in the company's growing popularity globally.
Bank of America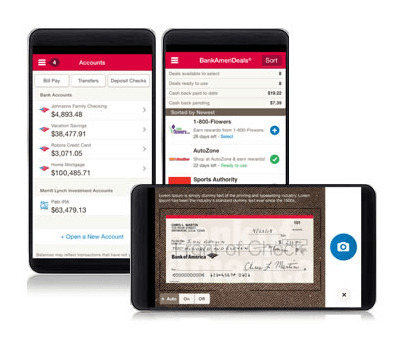 Image Courtesy: Hubspot
As one of the biggest brands in the BFSI sector, BoA (Bank of America) takes the omni-channel experience very seriously. They have set the standards in the sector for dynamic customer experience across various devices. Mobile and desktop apps of the bank are capable of accomplishing the same tasks ranging from depositing to scheduling an appointment, and the like. Though Bank of America yet to implement many other features, it has already taken the first step toward providing excellent Omni-channel experience.
Oasis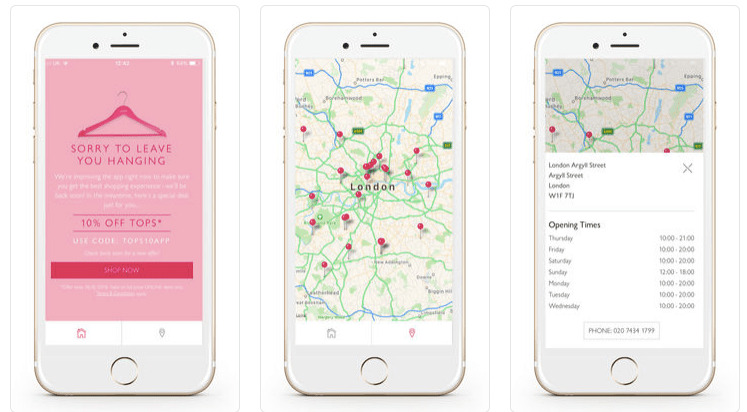 Image Courtesy: Hubspot
Let's move to the USA-based fashion retailer- Oasis. It has an integrated eCommerce website, mobile app, and brick-and-mortar stores to provide a seamless shopping experience. Its physical stores have sales associates equipped with iPads to give the customers the real-time and accurate product information. The iPad is also used as a cash register to provide you payment facility right away. What makes the entire offline shopping experience more pleasant is the staff can place an online order on behalf of you in case of 'out of stock' condition. You can get the item delivered at your doorstep soon.
REI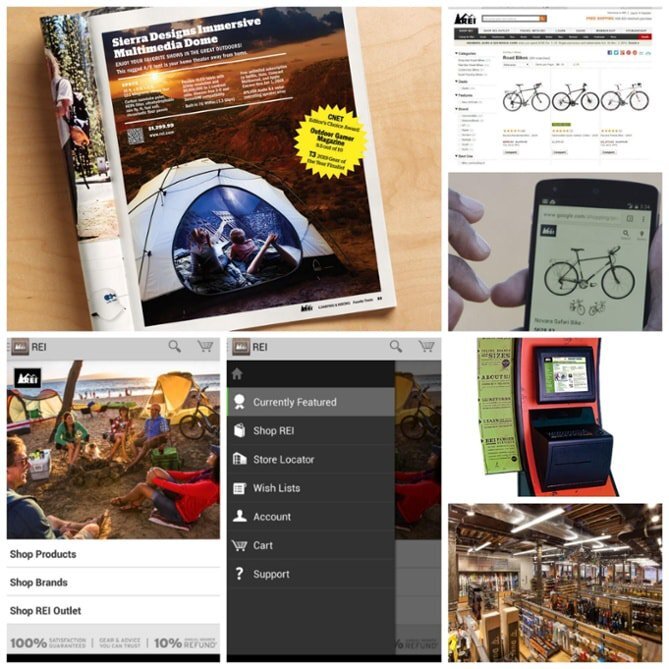 Image Courtesy: Hubspot
As per research, around 80% of customers use their smartphones during offline shopping. This fact is sufficient to highlight the importance of omni-channel marketing. Isn't it great that all your shopping channels work in sync to provide a powerful and personalised experience to your customers? REI is an epitome of successful omni-channel strategy implementation. Its consumers can find accurate product information across different channels with ease.
Timberland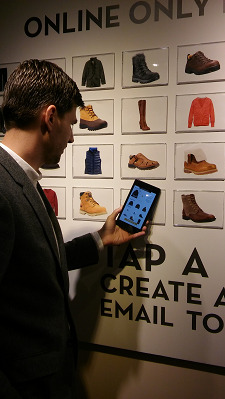 Image Courtesy: Hubspot
Another example of connective and personalised customer experience in the brick-and-mortar shops is Timberland. By utilising NFC (Near-Field Communication) technology, Timberland has implemented an excellent strategy. The company provides a tablet to shoppers, and they can simply press the button against products throughout the store. On pressing the button, the tablet shows the information about the product along with an offer. It enables customers to get rid of asking for more information every time.
VIP.com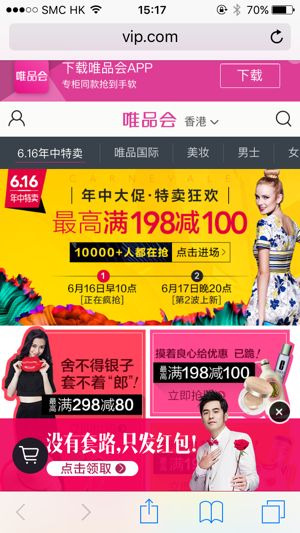 Image Courtesy: Hubspot
This is a China-based eCommerce marketplace. It is a B2B website that enables retailers to sell products on its platform. It offers an omni-channel experience to retailers by facilitating them to connect with potential customers. When retailers post new products on the company's website, the site's geolocation tools notify the customers who are in the vicinity of the retailer. As a result, the customers can either visit the store or give order online through a VIP website. Companies like VIP.com rely heavily on geo-location data to provide an omni-channel experience to its customers or users.
You can build an effective omni-channel retailing strategy by considering the five major aspects- product, sales, marketing, customer support services, and customer success.
Also download our:
Omni Channel Retailers Guide
Wrapping Up
Omni-channel retailing is aimed at maintaining a subtle balance between rapidly evolving technology and changing expectations of customers. Furthermore, it bridges the gap between the online and offline shopping experience through these five core components- Sourcing, Fulfillment, Community, Assortment, and Analytics.
SAP Business One, a powerful ERP software, can help you implement omni-channel retailing in the business by addressing these core components effectively. SAP Business One is designed to execute a successful omni-channel strategy by strengthening business relationships with trading and supply partners. It streamlines collaboration between traders and improves inventory management to meet the most common retail challenges.
As a global SAP Partner, Silver Touch can assist you to boost your retail business by offering the omni-channel retail experience to your customers. If you want to make the most of SAP Business One solution for your retail business, just mail us at info@silvertouch.com. Our expert professionals will soon get in touch with you.