Revolutionizing the Pharmaceutical Industry with ERP Software
The pharmaceutical industry is a highly competitive and regulated industry that requires precision, accuracy, and efficiency to succeed. Pharma companies are constantly facing challenges like complex supply chain management, stringent regulatory requirements, and changing market trends. This is where an Enterprise Resource Planning (ERP) system comes in handy. An ERP system helps pharma companies streamline their processes, optimize production, and enhance decision-making capabilities
Why Pharmaceutical Industry Need ERP System?
Improved Quality Control
An ERP system allows for quality control across the pharmaceutical production process, ensuring compliance with regulatory requirements, and reducing the risk of product recalls.
Enhanced Traceability
ERP software allows pharmaceutical manufacturers to track inventory, monitor supply chain operations, and trace products from their source to the end-user, ensuring transparency and accountability.
Real-time Data Management
With an ERP system, pharma companies can access real-time data from all departments, enabling better decision-making, improving operational efficiency, and optimizing production planning.
Cost Savings
By automating processes and reducing the need for manual intervention, an ERP system can help reduce operational costs, minimize errors, and improve profitability.
Improved Collaboration
An ERP system enables effective collaboration across different departments and locations, enhancing communication, reducing duplication, and increasing productivity.
Regulatory Compliance
ERP software helps pharmaceutical companies meet regulatory requirements by enabling effective tracking and management of quality, safety, and compliance-related data.
Transform your pharmaceutical business with our advanced and comprehensive ERP solutions.
The benefits of implementing an ERP system in the pharma industry are numerous. Some of the key benefits include
Improved inventory management
Streamlined supply chain
Better compliance with regulations such as FDA and DEA
Accurate financial data for improved financial management
Enhanced quality control
Increased efficiency and productivity through automation and real-time data
Faster order fulfillment and reduced waste
Better tracking of ingredient and batch information
Improved forecasting and decision-making through data insights
Increased agility and adaptability to changing market conditions and industry trends
Improved communication and collaboration between departments
Reduced costs through optimized processes and reduced errors
Improved customer satisfaction through faster order fulfillment and higher product quality.
Why is Silver Touch the best ERP provider for the
pharma industry in USA?
Silver Touch has over 25 years of experience in providing ERP solutions to various industries, including the pharmaceutical sector. Our ERP software is tailor-made for the pharma industry, covering all aspects from manufacturing to distribution. Our solutions are customizable, user-friendly, and designed to provide quick ROI. With our dedicated support team, we ensure seamless operations for our clients.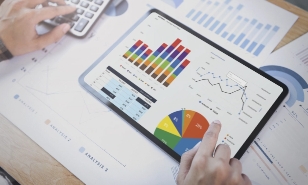 Silver Touch Technologies: Facts
1400

+

Qualified IT
Professionals
27

+

Years in
IT Industry
4000

+

Successful
Projects
100

+

RPA Consultants,
Experts
125

+

SAP Business One
Implementations
FAQs about ERP software for the pharma industry
Consultation
Share your details and we will get back to you as soon as possible to schedule a meeting.