Boost Your Retail Business with ERP Software: Streamlining Operations for Enhanced Performance
The retail industry is a fast-paced and competitive field that demands efficient and accurate management of resources to ensure maximum profitability. As businesses grow and expand their operations, it becomes increasingly challenging to manage every aspect of the business manually. This is where an Enterprise Resource Planning (ERP) system comes in. With the right ERP software, retail businesses can optimize their operations, increase productivity, and enhance their overall performance.
Why does the Retail industry need an ERP system?
Managing a retail business involves several complex processes, such as supply chain management, inventory management, customer relationship management, financial management, and more. An ERP system can help streamline these processes and provide several benefits to the retail industry, including
Better Inventory Management
An ERP system provides real-time tracking of inventory levels, enabling retailers to manage their stock efficiently and avoid stockouts or overstocking.
Improved Customer Service
ERP software can help retailers manage their customer data effectively, allowing them to provide personalized services and resolve customer queries quickly.
Enhanced Supply Chain Management
An ERP system helps retailers manage their supply chain from procurement to delivery, ensuring that they receive timely deliveries and avoid stockouts.
Accurate Financial Management
ERP software can provide real-time financial information and automate accounting processes, enabling retailers to manage their finances accurately and efficiently.
Increased Productivity
An ERP system automates several business processes, reducing the time and effort required to perform manual tasks and allowing employees to focus on more critical tasks.
Better Decision-Making
ERP software provides real-time insights into business performance, enabling retailers to make informed decisions based on accurate data.
Experience the power of ERP for your retail business with us.
Benefits of ERP software for the Retail industry
Streamlines business processes for increased efficiency.
Improves inventory management for better stock control.
Enhances customer service for improved satisfaction and loyalty.
Provides real-time insights into business performance for informed decision-making.
Reduces operational costs and boosts profitability.
Enables scalability for businesses to grow and expand their operations
Why does Silver Touch provide the best ERP for the
Retail industry?
Silver Touch has years of experience in providing ERP solutions to the retail industry. We understand the unique challenges faced by retailers and have developed a comprehensive ERP system that can help streamline their operations and increase their profitability. Our ERP software is flexible, scalable, and customizable, allowing retailers to tailor it to their specific needs. With Silver Touch, retailers can expect:

End-to-end ERP solutions for the retail industry
Customizable modules to suit specific business needs
A user-friendly interface that is easy to navigate
Real-time insights into business performance
24/7 support and maintenance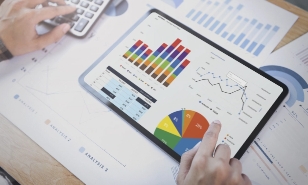 Silver Touch Technologies: Facts
1400

+

Qualified IT
Professionals
27

+

Years in
IT Industry
4000

+

Successful
Projects
100

+

RPA Consultants,
Experts
125

+

SAP Business One
Implementations
FAQs on retail industry ERP software
Consultation
Share your details and we will get back to you as soon as possible to schedule a meeting.