Empower your business and drive new business growth
SAP Business One is affordable quality software for integrated business management, built exclusively for small to medium-sized businesses. SMEs use this software as a single scalable solution that will bring insight into all business processes. This efficient ERP software helps you in effectively managing every aspect of your business by letting you streamline all core business processes. It ensures automated business processes and safeguards profitability and thereby increases the overall growth of the company. Silver Touch Technologies is a certified SAP Business One Partner. We supply, implement and provide on-going support for the solution.
SAP Business One Features
SAP Business One has a comprehensive list of features that offer you the flexibility to meet your business requirements and face the challenges, irrespective of the industry of your services.

Microsoft Office integration

Bank statement processing

DATEV / ELSTER (DE)

SEPA (Single Euro
Payment Area)
Automate and Streamline all Financial Operations
Manage all your financial undertakings using a single integrated solution.
Get accelerated and automated access to real-time financial information and all key accounting processes.
Eradicate errors and duplication by efficient integration of all financial operations.
Improve transparency in business by integrating all your accounting data with other domains like sales, inventory, purchasing, etc.

Cancel Marketing documents

Intrastate
Improve Business Insights of your Purchasing Practice
Right from preparing the purchase order to checkout, integrate all your purchase operations.
Improve business insights by reducing costs and automating purchasing processes.
Improve decision making and transparency in the entire business chain and enhance performance.
Have access to real-time data and gain full visibility to all your purchasing procedures.

Opportunity & pipeline management

Dunning & Customer management

Customer interactions tracking

Human resource integration
Simplify the Entire Sales and Service Process
Manage and automate the entire sales cycle.
Increase profitability and accuracy by easily managing complex pricings and margins.
Prevent duplication of data and enhance efficiency.
With the help of user-friendly interface, get information of real-time sales data.
Control all your marketing campaign activities efficiently to generate leads.
Promote new products and boost revenues by developing effective communication with your customers.
Improve sales opportunities by planning campaigns and organising events to analyze market trends.
Keep a track on the effectiveness of your campaign and regularly follow up to keep up with the changing trends.
Increase leads and profitability by efficiently managing sales.
Study the requirements of your customers and achieve higher revenues by efficiently delivering services.
Helps to manage entire service cycle starts from service call till end of the service call.
Access to real-time data lets you make faster and more improved sales decisions.
SAP Business One Sales and Service features are now available with Mobility Solutions which makes Sales and Service operation much easier and effective.

Price lists in
multiple currencies

Period and volume discounts
Implement Automated Inventory Management System
Gain overall efficiency in the entire inventory process with the help of integrated system.
Better planning and controlling invoke reduction in inventory costs.
Increase business growth opportunities by using competent inventory reporting tools.
Improve customer satisfaction by delivering the right customer services on time.
Warehouse Management System

MRP (Material Requirement
Planning)
Maximize Efficiency with Integrated Production Processes
Effectively manage and boost automated production processes through active integration.
Improved production methods will help reduce errors and cost and improve customer service.
Revamp decision-making procedures by better planning and efficient material handling.
Get transparency and real-time visibility for the entire production procedures.
SAP comes with MRP feature which extends the production module with forecasting and material requirement planning.

Internal project handling

Resource capacity planning

Gantt chart capacity viewing
Increase Project Profitability and Efficiency with On-Time and In-Budget Performance
Better visibility in the project scheduling, costing, budgeting across the organisation.
It provides real time reports and dashboards that make decision making quick and fast.
It allows getting graphical representation of project status with Gantt chart.
Companies can create sub project and tasks for better evaluation of budgeting, costing and analysis
Users have a holistic view of projects and detailed information related to each project
The billing wizard streamlines the SAP standard billing and milestone billing process and helps to improve process efficiency.
A new project management overview is added to allow you to filter and view all time -dependent details of your project or subproject in one place.
Transactions can also be assigned to a specific project stage, not just limited to a project, which enables easier and accurate project cost analysis.

User-defined fields creation

User-defined tables creation

User-define queries creation

Transaction notifications

Business process checklist
Increases the Flexibility to use SAP Business One better and ease manner
SAP Business One allows doing customisations for industry specific requirements.
User based authorisations; approvals can be set up for management controlling.
Minor changes and modifications can be done by end user easily.
SAP's Best
Selling ERP Solution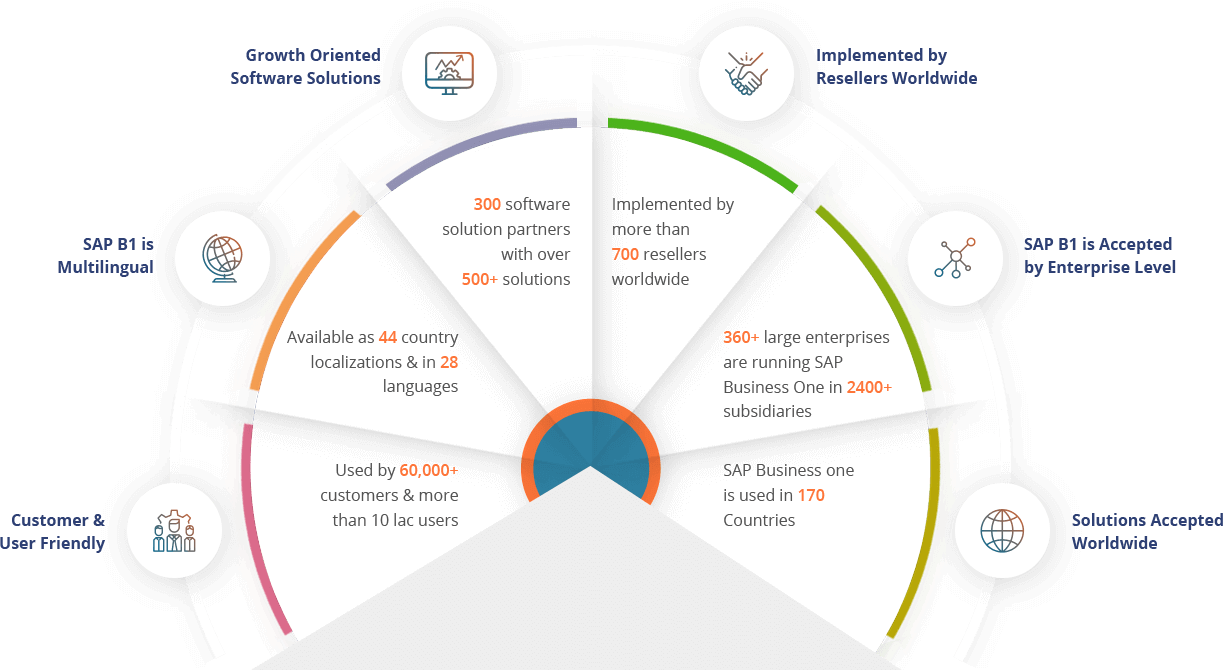 Why SAP Business One?
It s a myth that SAP is only for large enterprises only. SAP has matured over many years and SAP Business One is tailored to cater Small and Medium enterprises.
Central to SAP Business One s low total cost of ownership is its ease-of-use. It s an easy to implement, highly customisable and functional ERP system.
It s a global solution, available in 28 languages and 44 countries localisation.
SAP spends approximately 2m EURO s a day on research and development. Hence future development is assured.
SAP Business One allows full integration of all critical business functions into a single application to have a complete view of your entire business and increase controls.
SAP dominates the market for enterprise business applications world-wide with millions of ERP users across the globe.
SAP Business One come with in-memory technology called HANA with better speed and excellent dashboards which make decision making accurate and on time.
For companies to outgrow their business solutions. SAP Business One provides a fully scalable solution that grows with your business.
Silver Touch Technologies: Facts
Qualified IT
Professionals

SAP Business One
Implementations
Related Services
SAP Business One is affordable quality software for integrated business management, built exclusively for small to medium-sized businesses. SMEs use this software as a single scalable solution that will bring insight into all business processes.