SAP Business One Mobility – ANY TIME, ANY WHERE!
Run your Business at Any Time, Any Place with SAP Business One Mobile Application for Android and iOS (iPhone & iPad) devices.
It lets you access your SAP Business One application in real time – so you can stay in touch with your business whilst you are away from the office, giving flexibility and increased productivity
Key Features of SAP Business One Mobile Application
The key features include:
Create, edit, or view sales opportunities, sales quotations, and sales orders
Manage Tasks, activities and approvals – including processing service calls and warranties.
Monitor inventory and access detailed item data
Manage sales leads together with customer and vendor data
Access built-in, mobile dashboards and reports from the SAP Crystal Reports software
Manage Service Contracts and Process Service Calls (Service call activities from initiation to closing and track the solution details
SAP Business One helps organisations maintain business momentum anytime, anywhere with mobile access to SAP Business One.The solution helps facilitate quicker and faster decision making, which in turn increases productivity. Use this diagram in blog, with the complete pictures of the phones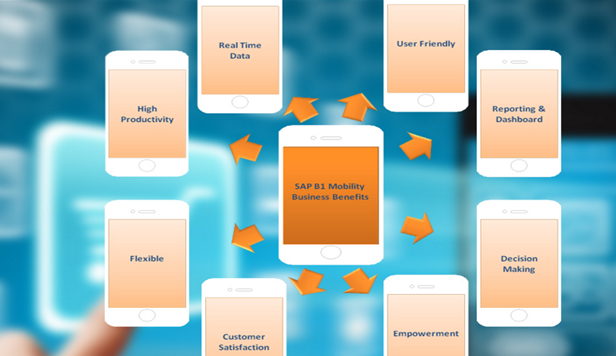 Silver Touch has expertise in SAP Business One Mobile Integration, from installation, to implementation and deployment.
If you would like to find out more about SAP Business One, then please contact us on +44 – (0) 203-872-5140 or email us at info@silvertouch.com