Role of SAP Business One in Tackling Tricky Challenges of Food & Beverage Industry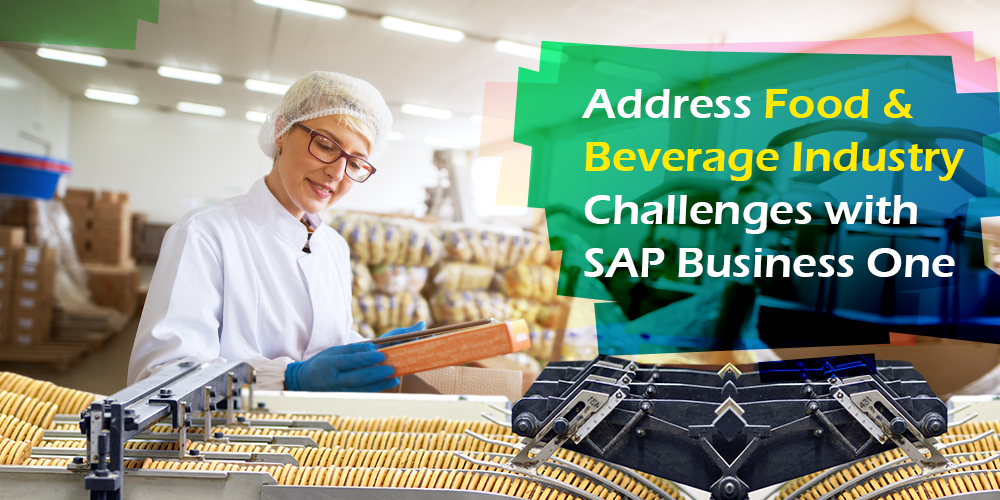 The food and beverage industry has seen tremendous growth in recent years. However, as the sector flourishes, we see a rise in challenges and competition. Be it a restaurant owner or a retail food and beverage dealer, everyone has to deal with different problems. ERP for the food and beverage industry can work wonders and help business owners to meet the challenges efficiently.
The food and beverage industry is one of the most highly regulated sectors and therefore, it poses different challenges as compared to manufacturing units. Most of its challenges are related to maintaining the food quality and managing the inventory while following strict hygiene standards.
How Food and Beverage ERP Solutions Address Challenges?
Here we mention some of the most common challenges of the food and beverage industry and how the SAP Business One solution can address them.
Compliance with Regulations

The food regulatory authorities have set the rules for every aspect of the food and beverage industry ranging from raw materials to finished products and packaging to marketing. If any of these rules are ignored, chances are high that the authority takes strict action against the vendor or manufacturer.

The SAP Business One solution can assist in maintaining compliance with the regulations by offering functions like recipe management, production scheduling, and warehouse management. It has a major role to play in managing and controlling the entire operation from the raw material to distribution of the food and beverages.

Packaging Requirements

Frozen foods are stored either in tin or glass packaging, whereas plastic bags are used for storing dry foods. In other words, every food or beverage has a different packaging need on the basis of its nature and composition. SAP Business One-based ERP for food and beverage industry can maintain the records of packaging for particular products.

Also, the material requirement planning and co-products management functions are also useful to manage the packaging requirements. SAP Business One integrates the packaging requirements with the inventory department and ensures the supply of packaging material.

Inventory Management

Managing inventory in the food and beverage industry is quite a task. Thankfully, the SAP Business One solution has a dedicated function for inventory and warehouse management that can assist you to store different food products in suitable storage conditions. This feature offers the management of both raw material and final product. It can assist the food and Beverage Company to get rid of the loss occurred due to storage mismanagement. Higher accuracy and efficiency is an outcome of inventory management feature.

Waste Management

Wastage is a big challenge for the food and beverage industry. Precautions are necessary while dealing with the waste material as the major part of the waste is perishable. SAP Business One solution offers waste management and scrap management features to ensure proper disposal of the food waste. A reliable SAP Business One partner can develop a customised solution for effective waste management as per your business requirements.

Process Automation

Features like automatic data collection, import and export management, and service management are useful to simplify and automate various processes of the food and beverage industry. Automation reduces the chance of human error significantly and enhances productivity. Data gathering, access, and sharing can be done in a real-time thanks to food and beverages ERP solutions. Chances of duplication or other malpractices are almost eliminated with an automated process.
Major Business Benefits of SAP Business One Solution
The rapid rise in turnover and expansion in the food and beverage industry is mainly because of ever-growing demand and increasing participation of customers across the world. SAP Business One helps the industry meet various objectives while offering the key business benefits to food and beverages companies.


A single ERP system can handle distribution, purchase, finance, production, and operations
Recipe management function enables the companies to come up with different food items
Material Requirement Planning (MRP) can help the company save a lot of bucks
Enhanced productivity and improved collaboration between production and distribution
ERP for food and beverage industry can reduce interruption and malfunctioning
Complete inventory management across different warehouses is possible
Integrated quality control system enables the company to monitor the products
Better compliance with regulations and quick adoption of market trends

You can get customised solutions to address your food and beverage business needs with SAP Business One. You can readily manage and control the operations by increasing the visibility of raw materials and inventory. Barcode integration with SAP Business One can simplify the sales process and an integrated quality control system can assist you to keep the check on delivered and available products. All you need to find a trusted SAP Business One partner to get the customised ERP for food and beverage industry, and here, Silver Touch can help.

Wrapping Up

The food and beverage industry faces many challenges while striving for demonstrating high transparency and maintaining quality. The ERP for food and beverage industry, which is based on SAP Business One, can remain handy for the sector to address these challenges and ensure smooth functioning. It is fair to mention that it is difficult for the food and beverage industry to survive and thrive amid growing competition without customised ERP solutions.

As a leading IT solution provider, we know what it takes to meet the ever-changing requirements of a flourishing food and beverage industry. We are one of the most trusted global SAP partners who have hands-on experience in developing and integrating food and beverages ERP solutions based on SAP Business One. Our 360-degree ERP solution covers various sectors of the food industry including retail, wholesale, and manufacturing. Mail us at info[at]silvertouch[dot]com to know more about our solutions.