ERP Benefits for Manufacturing: Why SAP B1 is the Best ERP Solution?
SAP for Manufacturing Industry in USA
Whether you call it an ERP solution, small business tool or simply manufacturing software, SAP Business One works well in all situations. Your small business is acquiring new miles and that's good. But as you grow, you need to add locations, warehouses, product lines, with a digital touch and for that the simple accounting system cannot keep up the growing process. Hence SAP for Manufacturing Industry is indeed become a crucial need nowadays.
To be a market leader in today's manufacturing industry in USA, innovation and rapid response to customer demands are vital. SAP ERP is helping manufacturers tackle these challenges with reliable solutions, created specifically for the industry. With SAP software solution in USA, manufacturing companies are able to react faster to variable market demands, predict operational issues and streamline manufacturing performance overall with one single source of real-time information.
A manufacturing ERP software fits the bill, but there are plenty of options in the market to explore and adopt. To know why SAP business one is the best ERP for small manufacturing businesses, keep reading.
Before we delve into it let us explain to you what is manufacturing ERP.
What is Manufacturing ERP Software Systems?
ERP solutions for manufacturing refers to the Enterprise Resource Planning cloud based manufacturing software that is used to plan, manage, and deliver specific functionalities to support the business. The best ERP for manufacturing is built to flexibly support and integrate into any other business process, to create a complete management platform for manufacturing companies in USA.
ERP software is expected to reach $93.34 bn by 2028.
There's another great way for the manufacturers to manage their operations- the MRP systems. But do MRP systems support well or the ERP systems? Let's study.
MRP Systems and ERP Systems: Comparison
MRP= Material Requirements Planning, is a software solution that helps manufacturers to calculate the material precisely in terms of time, and quantity. MRPs have developed more functionalities with MRP II version with detailed planning, scheduling and other floor calculations.
ERP systems on the other side is Enterprise Resource Planning, a complete software system that includes features that automate and streamline business operations related to manufacturing. The ERP system for small manufacturing has been developed from MRPs and designed to plan inventory and plan the sales, quotation, management, human resources, accounting and more.
ERPs go a step ahead and get connected with different aspects of the business allowing to complete the tasks and processes hassle-free. ERP has the power to keep accurate data and help in increasing efficiency and reducing the costs.
So, ERP software turned out to be better than MRP software to manufacturing industries.
Benefits of ERP Systems for Small Enterprises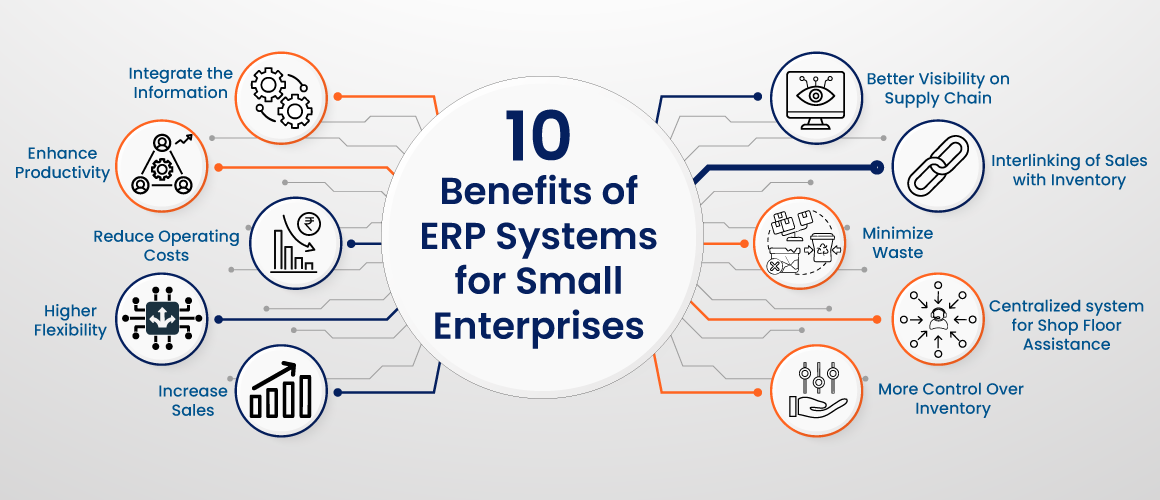 ERP for small business manufacturing is the best business process software that helps small scale companies to use integrated applications for managing several back office functionalities. For large organisations the cost of installation and maintenance becomes less with ERP. however to streamline the data take better decisions to enhance the productivity.
Let us prove you with the below benefits of using cloud based ERP systems software for manufacturing.
Integrate the Information

ERP assists small businesses with coordinating the progression of data between the different business processes in the association while incorporating deals with the financial systems of the organisation progressively. It assists with presenting vital deals on the organisation's overall record as well as other monetary frameworks. This permits the administration to see the financial ramifications when it is required. It assists with covering the centre cycles that begin from deals request passage, item estimating, transporting/conveyance, stock and distribution centre, creation, acquirement, invoicing, financials and a few others.

Enhance Productivity

Key information and data of all divisions are made accessible on a single platform at the right time and place. Subsequently, the need to contact workers of various divisions or potentially go through success sheets to gather crumbled data doesn't emerge. ERP system keeps a master date for merchants, clients, items/materials, schedules and assembling work processes, bill of material (BOM), and different information which is basic. This assists with keeping up with consistency in the work processes, saves time, and improves efficiency.

Reduce Operating Costs

Expansion in the volume of business deals and thorough utilisation of excel sheets might prompt absence of command over the information and to the working condition of breakdown.

With complex business processes and expanding exchanges the requirement for an ERP software solution turns into an unquestionable necessity. With the expansion in HR/workers and development in income, absence of suitable coordinated business programming might adversely affect private companies.

TIP

Want to know the complete SAP Business One pricing guide?

Higher Flexibility

Probably the best benefit of ERP software in a private company is deftness and adaptability for adjusting to showcase needs or the circumstances that are forced by purchasers. Devoted ERP programming gives adaptability regarding making vital changes in information to the board to keep up with business adaptability. For instance, stock changes, changes in marketing projections, cancelation of orders and so on can be deftly kept up within an ERP programming as opposed to erasing information and entering data in an excel sheet.

Increase Sales

Probably the best benefit of ERP software in a private company is deftness and adaptability for adjusting to showcase needs or the circumstances that are forced by purchasers. ERP gives adaptability regarding making vital changes in information with business flexibility. For instance, stock changes, changes in marketing projections, cancelation of orders and so on can be deftly kept up within ERP solutions as opposed to erasing information.

If these are the multiple benefits, when do you understand that your company is ready to adapt to the ERP solution for the manufacturing industry? Let's learn.

Better Visibility on Supply Chain

In a highly competitive manufacturing sector, visibility holds the key to succeed. SAP Business One offers you greater visibility on supply chain and inventory to enable you to control cost and meet deadlines while addressing customer demands more effectively. SAP Business One manufacturing solution can collect all necessary data to provide you with better visibility of the supply chain. You can make data-led decisions that can lead your company to more sales and higher profits.

SAP Business One can synchronize warehouse management, inventory management, sales, and financial accounting data. You can also monitor the movements of goods and keep an eye on the price change without any manual help. What's more, the solution offers real-time data to get accurate information. SAP Performance Benchmarking data has suggested that manufacturing units that use SAP Business One have experienced 8% increase in plan adherence.

Interlinking of Sales with Inventory

SAP Business One manufacturing solution can enable you to streamline the sales order process by linking all sales orders to inventory data. Simply put, as you place the order, you can have a notification on the stock level of the ordered item. You get quantity details of the items adjusted by what is already committed to other customers and incoming buying. SAP B1 also records receipts and issues of goods of your warehouses. You can readily track the stock transfer from one warehouse to another.

If there is an increase or decrease in the stock level, your inventory accounts can be adjusted instantly. It can save your time and efforts to record the stock level manually. Also, this ERP solution helps you prevent overlap from concurrent orders.

Also Read – Top Factors to Consider for Choosing the Right SAP Business One Partner

Minimize Waste

You can minimize waste and allocate the material properly with the help of SAP Business One. This solution can integrate the purchase orders and BOMs (Bills of Material). You can utilize this integration for allocating materials correctly. You can also include resources like equipment or text-based specific instructions in all types of BOMs. After designing BOMs, you can create production orders. Once these orders are released, the available material and costs are added to the work orders automatically.

In a way, you can accurately allocate the material and resources for uninterrupted production.

Centralized system for Shop Floor Assistance

Gone are the days when the works relied on a hard copy of instructions while manufacturing products on the shop floor. This traditional system was inefficient and difficult. Thanks to SAP Business One Manufacturing solution, you can provide all the instructions and processes directly to workers through a centralized system. You can share the guidelines and instructions in real-time and inform them about the changes or updates instantly.

The SAP B1 also offers accurate workflow management to ensure that instructions are received and followed properly. It enables you to meet deadlines and increase productivity. Workers can also share necessary information with ease and maintain high efficiency. Finally, with SAP Business One you can avail of the advantage of automation and AI (Artificial Intelligence).

More Control Over Inventory
Access to raw material can be a headache for manufacturers. Be it an SME or a large enterprise, inventory covers a large part of expenses. It is, therefore, necessary for you to maintain a subtle balance between inventory and production to meet the customer's demands and deliver products on-time. The SAP Business One solution is designed to meet all these requirements related to inventory and production management. It acts as an integrated application to manage inventory across multiple warehouses in different locations. Apart from giving a real-time access to inventory details, SAP Business One enables you to place orders through the desktop or mobile devices.
When is a Manufacturing Company Ready for ERP?
When tasks are not streamlined
When organisation is not a centrally integrated software
When changes in compliance is difficult to facilitate
When sales and customer numbers are dropping
When the IT systems of your company are too outdated
When the company is not proactive towards processes
When your company needs an ERP system, which one is the best ERP software for manufacturing?
Also Read – How SAP Business One Add-ons Benefit Your Business
Best ERP for Small Manufacturing Business
When you are at the stage where the ERP system is the only solution and you want to upgrade, it is important to know about multiple options that lead the operations of the business. Depending upon the nature of your business, there are a few listed and top ERP software for the manufacturing industry.
Let us brief you about a few of them.
IFS

IFS is an European company, recently known across the globe. It is a manufacturing -focused product and a heavy project management fit for small and large companies. A cloud based ERP for manufacturing that is easy to use and stable for many businesses.

QAD

QAD is useful for large and highly functional manufacturing organisations like chemical and automobile manufacturers. They are best known for integrating cloud over a decade for a fairly mature configuration flexibility to customise the software with extra sense that appeals to many.

SAP

SAP is a fairly comparable cloudsuite tailored to larger companies with broader capabilities. Although SAP is applicable as the ERP systems for food manufacturers, it is evolving and deepening its functions to the needs of other industries.
Key Features of Our Manufacturing ERP Software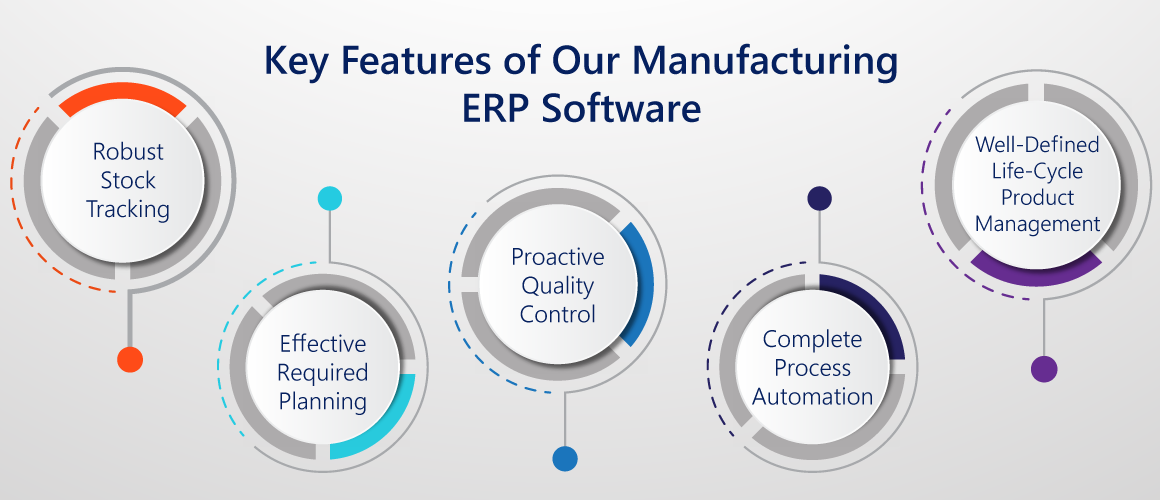 Choosing the right manufacturing ERP software system can be a little tricky. Here are the listed features that an enterprise solution you choose must have for the best functioning of the business.
Robust Stock Tracking
Effective Required Planning
Proactive Quality Control
Complete Process Automation
Well-Defined Life-Cycle Product Management
An ERP software is not just a system but it helps to process daily processes more than required. It is a tool that empowers businesses with capabilities to sustain in the market.
How to choose the best ERP for manufacturing?
Any manufacturing business should map out the workflow to get most out of it. To choose the best ERP software speak to a vendor for getting the best solution that has the industry expertise. Make sure you understand which software module is most crucial for your company or industry.
SAP Business One is available on HANA as well which is the latest generation and in-memory computing database. Which will give you pervasive analytics, Advance Dashboards, user-based cockpits, sales and service mobile app and much more benefits. SAP Business One on HANA is much faster than the traditional systems that will help you to provide real-time data quickly.
SAP Business One for Discrete Manufacturing eliminates the need for diverse systems and complex integration of multiple modules and help streamline their end to end operations, while SAP Business One for Process Manufacturing manages finished goods, co-products and by-products most efficient way, thereby reducing capital expenditure, gain higher machine and labour utilisation leading to improved ROI.
Silver Touch is having vast experience in different manufacturing industries like Machinery Manufacturing, Construction Equipment Manufacturing, Food Manufacturing, Pharmaceutical Manufacturing, Chemical Manufacturing, Rubber Processing and Manufacturing, Electrical Component Manufacturing and many more. We have expert team of SAP consultant who can help you to choose the best ERP software for your business and how you can implement in in your existing process.
Do you want to evaluate an ERP for your manufacturing business? If yes, contact us.
Wrap Up
SAP Business One process manufacturing solution can provide a lot of benefits to the manufacturing sector. From inventory control to shop-floor experience to customer services, SAP B1 solution can help the manufacturing industry to thrive in a cost-effective way.
Silver Touch Technologies USA is a global SAP Partner that can help you improve performance and reduce waste in a cost-effective way through a robust SAP Business One solution. We develop and deploy customized solutions for discrete manufacturing and process manufacturing industries. You can streamline the production processes and manage all the operations more efficiently with our solutions. Send us a mail at info@silvertouch.com to get connected and explore more.
Talk with our SAP consultant today to get the best advice!
FAQs on SAP ERP for Manufacturing Industry
Q1. What does SAP stand for in manufacturing?
SAP is the system application production and planning in the ERP software that is integrated by the manufacturing industries to enhance productivity and streamline the operations. It helps business plan the manufacturing, sale and distribution of the products and services.
Q2. Which ERP system is best for manufacturing?
SAP Business one is the future of the ERP system with in-built smart technologies, cloud based systems, AI and advanced analytics for improvement of the business. It helps businesses to grow quickly and drive profit with on-scheduled delivery.
Q3. What is ERP for manufacturing?
Enterprise resource planning enhances the inventory, supply chain, warehouse management and accounting of the entire business operations. The financials, human resources, and reporting activities are easily managed with integrating ERP software solutions.
More Resources on SAP for Manufacturing Industry