How SAP Business One Add-ons Benefit Your Business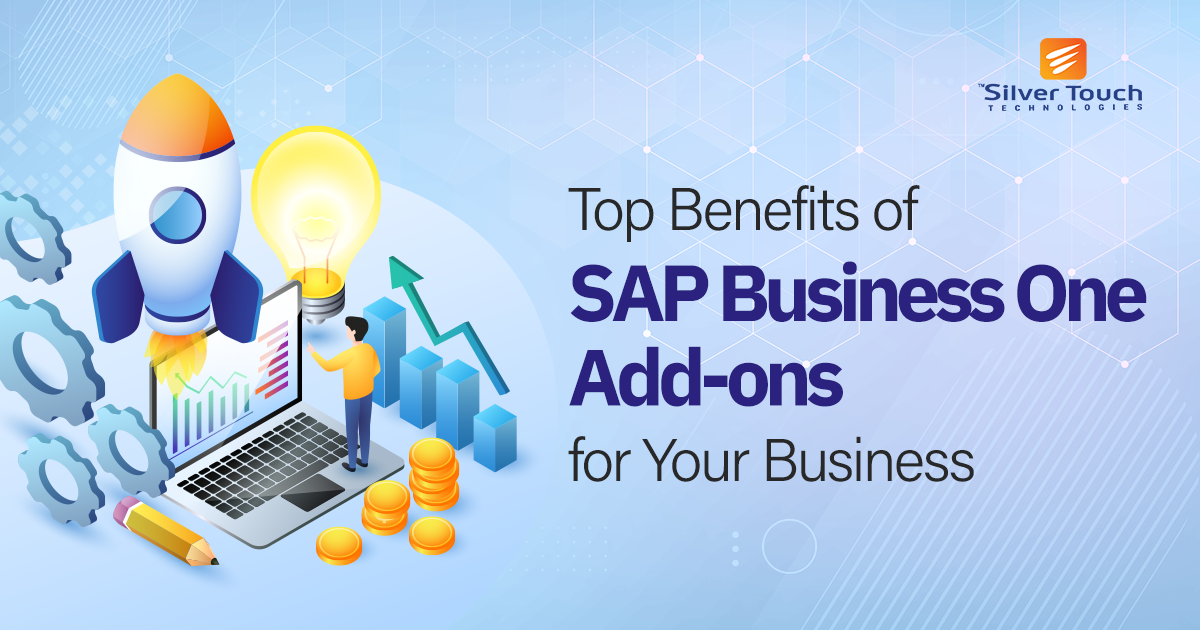 SAP Business One has transformed many business processes across various departments like sales, financials, inventory, and consumer relationship management. The software is exclusively designed to meet the complex and diverse requirements of small and mid-sized enterprises. This characteristic gives SAP Business One a distinctive identity in the ERP software market.
SAP Business One (SAP B1) is one of the most preferred ERP solutions for SMEs. It offers a range of solutions for various industry sectors. For example, the Retail solution from SAP and the POS solution from SAP are highly beneficial for the retail and eCommerce sector. The SAP Business One add-ons are capable of meeting the needs of corporate clients while facilitating them to manage business tasks efficiently.
Customized SAP B1 add-ons assist various industry sectors in handling daily operations more effectively. Here we are going to see how SAP Business One add-ons benefit modern businesses and which industry sectors are the biggest beneficiaries of customized SAP Business One Add-ons.
Let's start with the noteworthy business benefits of SAP B1 Add-ons.
Major Benefits of SAP Business One Add-ons for Your Business
Provide Real-time Information
SAP B1 add-ons enable companies to add new field data anytime. It is possible to add a database or any files related to products, vendors, customers, and processes with the help of SAP B1 add-ons. In a way, you can get real-time information through the SAP B1 solution.
SAP Business One add-ons also facilitate entrepreneurs to add new screens or windows and modify the existing screens. You can easily save additional information on new screens or modified screens without interfering with the core business logic. Tailored SAP B1 add-ons provide better access to corporate data and accurate calculations in line with modified screens.
SAP Business One add-ons are designed to keep the requirements of SMEs in focus. They are useful to bridge the gap between the SAP B1 and company requirements while addressing challenges and streamlining processes effectively.
A reputed SAP Business One partner can build customized SAP B1 add-ons in line with your company's necessities and challenges in a cost-effective way. These add-ons enable you to modify or upgrade data without spending more money.
This is one of the biggest benefits of SAP Business One add-ons. Any of your employees, with a little or no technical knowledge, can easily add or modify details in SAP Business One solution using the add-ons.
Though customized SAP Business One Add-ons are beneficial for almost every industry, a few sectors can remain the biggest beneficiaries. These sectors are-
1. Manufacturing– Growing competition, ever-increasing challenges, and changing requirements are three hurdles in the way of success for manufacturers. SAP Business One add-ons can help them overcome these obstacles while enabling them to manage various departments and streamline the operations to increase productivity.
2. Food & Beverage– F&B and Pharmaceutical industries are heavily regulated ones. The food & beverage sector has to deal with multiple challenges like rising demands, quality control, price control, etc. Specific SAP B1 add-ons can enable the F&B industry to monitor and manage the entire life cycle while complying with prevalent standards.
3. Pharmaceutical– The pharmaceutical or life sciences sector has no room for human errors. Also, the sector faces a lot of challenges related to quality control and testing of drugs or vaccines. The utmost care is necessary at every stage in the pharmaceutical sector. There, SAP B1 add-ons can help companies accomplish some of the most important operations like regulatory auditing, compliance, and expiry management.
4. Dairy– Supply chain management plays a crucial role in the dairy business. Almost all dairy products rely solely on milk and therefore, the dairy industry has to ensure that milk supply remains consistent. With this, it is necessary to track and manage perishable items to maintain the hygienic condition in the storage space. SAP B1 add-ons can offer complete control over various important processes like process management and distribution management.
5. Trading– Addressing ever-changing trends and customer expectations are important for ensuring growth in the trading business. Perfection, speed, and adaptability are the main conditions to survive and thrive in this highly competitive sector. Add-ons can help traders in shop floor management and warehouse management. These customized add-ons enable traders to meet various requirements and simplify complexities.
Improved productivity, enhanced management functionality, and increase profitability are some of the key benefits of bespoke SAP B1 add-ons. These add-ons assist entrepreneurs to handle key verticals including quality control, inventory, and production management.
Concluding Lines
SAP Business One is a robust and reliable ERP solution to meet the diverse business needs of SMEs. Customized SAP Business One add-ons make this solution more beneficial for your enterprise and suitable for your business model. If you have already integrated SAP Business One in your business system, you can make the most of SAP B1 using the customized SAP B1 add-ons.
Silver Touch Technologies USA is a renowned SAP solutions provider for global businesses. We assist SMBs to leverage the benefits of high-quality integrated business management software, SAP Business One. Large or established enterprises can bank upon our robust SAP Business One on Hana solutions to ensure growth. As a certified SAP Business One Partner, we provide end-to-end SAP B1 solutions.
Do you want to know more about our services? Simply send us an email at info[at]silvertouch[dot]com. We will contact you soon.