Role of SAP in Warehouse Management with Voice-enabled Operations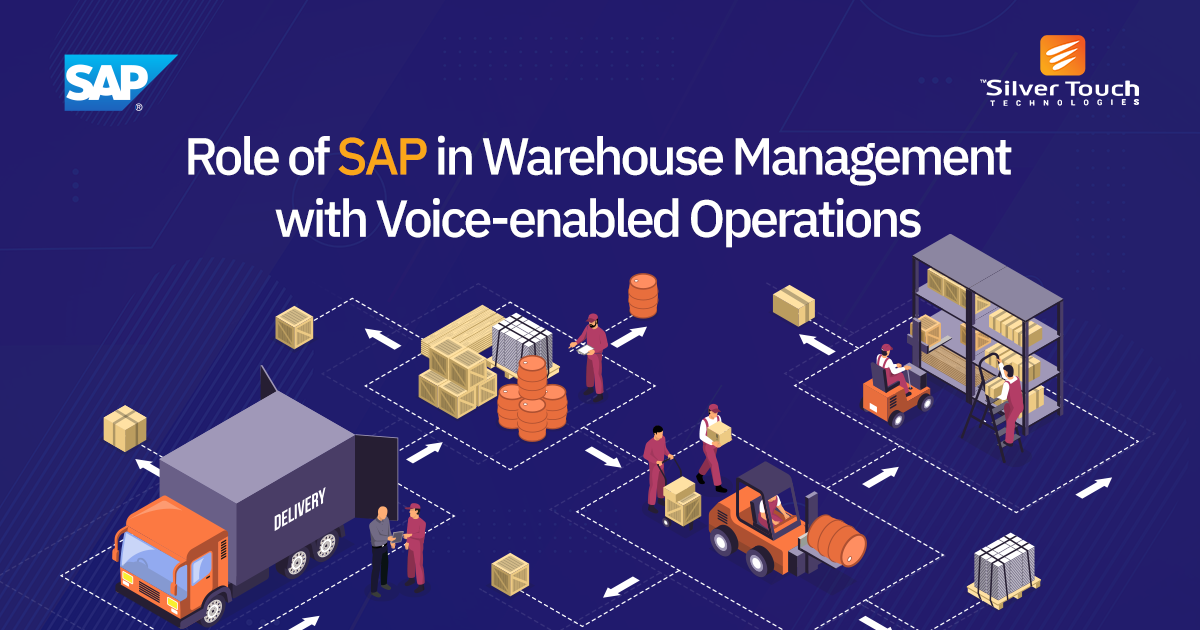 Voice assistants have gained ground swiftly across the world and people have already started using them to accomplish daily tasks. Voice technology has tremendous opportunities for industries as well, and one of the examples is warehouse management. In recent times, penetration of voice technology keeps on increasing among warehouse distribution centers for increasing accuracy, improving productivity, and reducing time for training.
As per an official report, voice integration in warehouses has reduced picking errors by 50% and supply chain executives can get a typical ROI in less than a year. Talking about retail warehouses, every hour, several processes are accomplished at once, and critical operations like inventory control play a vital role in picking goods. Employees need to be highly efficient and accurate because wrong picking can affect customer experience and ruin the company's reputation.
Here, voice picking technology comes into the picture as an extension of the warehouse management system. This technology can improve the accuracy of employees and increase the speed of picking parcels. With voice picking, it is possible to create a hands-free workflow with automation in several processes like reading, scanning, and punching. Users or employees of the warehouse can improve efficiency while reducing errors by over 25%. Voice picking also decreases training time.
In this pandemic age, the warehousing and logistics industry has been hit hard. On one hand, the warehouse has to execute delivery quickly because of increased requirements of necessary items, and on the other hand, the industry has to cope with a reduced number of employees due to the lockdown. Voice technology has proven its importance in such a difficult situation.
Here are a few of the noteworthy benefits of a voice-enabled warehouse system-
1. Higher Productivity- Workers can readily keep pace with a high amount of orders and soaring demands through voice capabilities. Warehouse enabled with a voice can also take less time for training, and workers can use both hands for moving parcels.
2. Improved Accuracy- Unlike traditional warehouse movement, voice picking enables employees to get rid of stopping frequently for checking their devices. It also reduces the chances of human errors and pickers can deliver more orders with increased speed.
3. More Efficiency- Minimal onboarding time and user-friendly experience are two major characteristics of voice-based warehouse management. Workers can enjoy the flexibility of selecting the device and their training can be simplified with improved optimization. In a way, their efficiency can be increased considerably.
4. Increased Safety- The COVID-19 outbreak has made 'contactless' a new normal across the world. Thanks to voice technology, many physical touchpoints can be eliminated to curb the spread of the virus. Voice-enabled warehouse management can reduce surface contact thereby protecting workers at the warehouse.
Let's go through the role of SAP ERP in voice-enabled warehouse operations.
How SAP Business One (SAP B1) Benefits Warehouse Operations
SAP Business One is a renowned ERP software for small businesses. It supports several voice integration methods through an open architecture. As a result, warehouse employees can achieve high productivity and accuracy. SAP products include Extended Warehouse Management (EWM) solution or Warehouse Management (WM), in which voice integration is possible.
Distribution centers can deliver on time with minimal chances of errors and higher scalability with the help of ERP integration with WM solutions and voice. As a warehouse owner, you can significantly increase the safety of your warehouse processes and never miss any deadlines.
These days, voice integration into SAP solutions has become a necessity for the corporate sector. An SAP Business One services provider can integrate voice to offer superior ergonomics without any distractions to the corporate clients. Advanced voice technology is capable of providing voice recognition in noisy environments as well. What's more, the SAP B1 solution with voice integration has noise cancellation functionality to reduce the background noise like truck horns and conveyer system operations in the warehouse.
The voice-based system also helps companies overcome the language barrier because it supports almost 40 languages. In a way, users can interact with SAP ERP in the most natural and effective way. Voice with SAP B1 can benefit your warehousing business in two ways- One, when your business grows, and two, when you need to fulfill the growing demands during the festive season. SAP B1 solution also allows you to add onboarding time of new employees and overall capacity without making any significant changes to the infrastructure.
Concluding Lines
SAP Business One (SAP B1) has gained fame for empowering enterprises and driving growth by offering integrated business management. In this turbulent time, when we still struggle against the COVID-19 pandemic, the implementation of advanced technologies like voice-enabled applications can give companies a new strength. Also, voice technology can help you grow your logistics and shipping-related business by promoting contactless shopping.
Silver Touch Technologies USA is a renowned IT solutions provider and a global SAP partner. We offer the best-in-class SAP Business One service to our esteemed corporate clients to streamline their processes and simplify operations. Do you want to give your company an SAP B1 advantage or want to know more about our range of services suitable for your business model? Simply drop us a line at info[at]silvertouch[dot]com and we will gladly assist you.