Top Mobile App Ideas Startups should Look for in 2020 and Beyond
COVID-19 pandemic has changed the way we work across the world. Not only startups and SMEs, large enterprises and conglomerates have also taken the brunt of it. Talking about the lifestyle, our dependence on mobile apps has increased like never before as we have to stay at home due to lockdowns.
Having said this, this situation has opened the doors of new opportunities for startups in the domain of software development. Yes, every business, irrespective of its size and model, can leverage the benefits of mobile apps through staying connected with its target audience on a 24/7 basis even during the lockdown. What's more, Statista has predicted that the number of smartphone users in the world is likely to reach 3.8 billion by 2021.
Startups, with all their flexibility in operations, can make the most of a thriving mobile app domain and get a slice of the pie as revenues from mobile apps are expected to cross $935 billion by 2023 globally. All they need are a creative idea and a robust mobile app development company that can transform the idea into a stunning app. These days, having a mobile app is a necessity to grow your business, but it is also important to have the right kind of app to get a competitive edge over peers.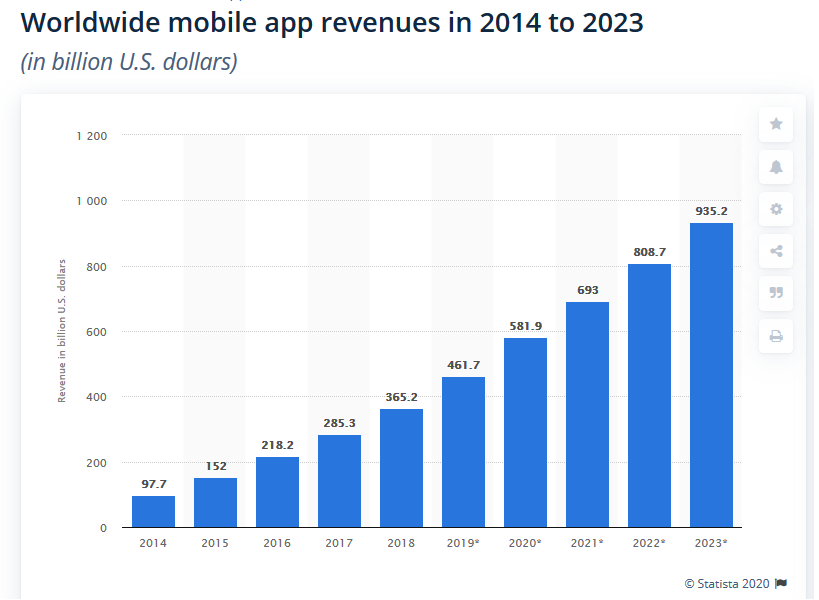 App ideas keep on evolving in line with advancing technology and changing expectations of people worldwide. If you want to make your startup successful and grow your business through a seamlessly performing mobile app, here are the top ten trending app ideas to get started in the year 2020 and beyond.
Trending Mobile App Ideas Startups can consider in 2020
Collectively, there are over 5 million apps available for download in Apple App Store and Google Play Store. This number is increasing by leaps and bounds, and a new app has to face tremendous competition. In such a challenging scenario, if you want to emerge as a successful startup, you need to come up with innovation and creativity. An excellent app idea can help you earn higher ROI for a long time.
Let's take a look at such mobile app ideas.
Doctor on Demand-type App
If you are a healthcare services provider, this is the best option for you. Simply hire mobile app developers to build a solution that enables patients to get rid of visiting a doctor physically. Simply put, the app facilitates virtual consultations and doctors can give prescriptions on the basis of online diagnosis. If the doctor finds anything unusual, they can visit the specialist at the earliest.
Work Finding App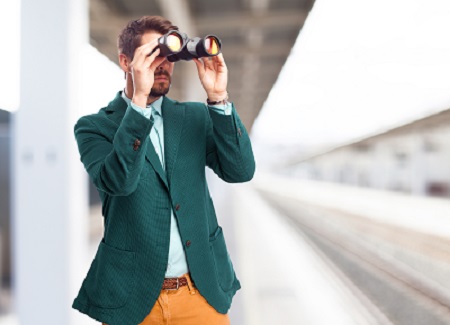 Image Source
This is another blessing for freelancers and entrepreneurs in this pandemic age. The work finding app acts as a bridge between employers and freelancers. Features like creating a job profile, post job requirements, search option, and work-time management can help entrepreneurs grow business and jobseekers to get the job as per their profiles. This app provides flexibility and promotes the work-from-home concept.
Invoicing App
This is not an ordinary invoicing app we are talking about; it is powered by the blockchain technology. It can help users to calculate tax and manage expenses. Features like smart contract, hyper ledger, and the like provide a seamless and secure experience. Also, the blockchain-based tax or invoice app can generate invoices to manage the financial processes in a swift and secure way.
Online Teaching App
It is fair to mention that the eLearning or online teaching concept is here to stay. Its popularity increases steadily across the world and in this pandemic age, it remains the only option for kids' education. As most educational institutions are shifting to the online platform, the eLearning apps will remain in high demand. Students can get study material, tutorials, and 24/7 consultation through such apps. Custom software development services can help you come up with a seamlessly-performing online teaching app that has excellent features and engaging UI.
Food Donation App
Food donation is the need of the hour as hundreds of thousands of people are struggling to survive without any job or work. They may have shelters but they must face difficulties in obtaining good food to eat on a daily basis. On one hand, this situation makes us realize the importance of food, and on the other hand, it shows the necessity to avoid wastage. The food donation app is designed to address this issue and teach us a sustainable method to survive in the future.
Fantasy Sports App
People tend to give more time to online games while staying at home. Every age of people like gaming apps, but here we are talking about a fantasy sports app that particularly attracts youngsters and millennials. The fantasy sports app has great potential and it can engage the users for a long time. It also provides them a personalized experience and sports enthusiasts can spend long hours in such an app. Users find the Live scores of their favorite games more interesting.
Also Read- Top Digital Transformation Trends to Watch in 2020
On-demand Apps
Though we have big names like Uber, Groffers, Walmart Grocery, and Amazon in this genre, the on-demand app development domain is still vastly unexplored. Be it a medicine delivery or milk and food delivery or household services delivery, startups can have many options in the on-demand delivery business. For example, the medicine delivery app can offer the delivery of Allopathy, Ayurveda, and Unani medicines at the customer's doorstep.
Vehicle Servicing App
Chances are high that vehicles need servicing and maintenance after staying unused for a number of days thanks to the lockdown and WFH practices. Vehicle owners can get the vehicle service at their doorstep with a high-quality vehicle servicing app. The servicing app can have a built-in inventory management system to reduce the waiting time and make the process more transparent for the users.
Interior Designer App
In the current situation, people tend to avoid visits to any places where there is a possibility of infection. Offices, shopping complexes, and malls have reduced footfalls because of this reason. If you are an interior designer or want to establish your interior designing business, it is better to offer a virtual interior designer app to your prospective customers. It enables the users to take pictures of the place that they want to redesign and then visualize it with available designing options including objects, colors, and wallpapers.
Fuel Delivery App
This is a unique idea that makes the most of the on-demand concept. Users can get fuel without going to a gas station with the help of a fuel delivery app. All they have to do is selecting the nearest fuel station and order the required quantity along with the online payment. It is the most convenient way to get fuel at the doorstep. You can also keep a reward system and other engaging features to make the app successful.
Apart from these ideas, software development has many other apps to offer including healthcare app for mental conditions, suicide control, task scheduling, video editing, and dating. You can also consider building leisure apps with unique concepts and creativity. Emerging technologies like AR, VR, AI, and IoT can enable the mobile app development company to come up with unique and user-friendly apps.
Concluding Lines
Startups need flexibility, connectivity, and scalability to succeed amid growing competition and changing customer expectations. IT solutions, specially customized mobile apps can work wonders for them while meeting all these requirements effectively. It is better to consult a reputed mobile app development company to get more insights to convert their app idea into reality.
Silver Touch Technologies is a leading mobile app development company in the USA. Apart from providing software services for our corporate clientele, we are glad to assist startups, SMEs, and established enterprises to leverage the benefits of cutting-edge technologies for bringing digital transformation in the complex business processes. We also render the next-gen RPA (Robotic Process Automation) services and robust SAP solutions to keep your enterprise ready for the future.
Do you have any awesome app ideas? Simply share it with us at info@silvertouch.com and we will assist you to transform it into an awesome app.