Empower Field Engineers with SAP Business One Service Mobile App
Expansion of business brings a new challenge of providing quick and effective services for addressing the customer's problems regarding products and equipment. At times, service team and field engineers find it difficult to manage and resolve tickets efficiently. Thankfully, SAP has launched much-anticipated SAP Business One Service mobile app to meet this need without worrying about time and place. The app updates in real-time meaning that on-site staff always have the latest information to hand, ensuring improved communication between the office, field staff and customer.
The SAP Business One Service app is a boon for remote service staff and field engineers as it can make their job easy. The app connects directly with SAP Business One ERP system and the field engineers can have access to the CRM data through their smartphones. It enables the service workers to review and resolve tickets on the move. In addition, Engineers are also able to fill in report forms, take photographs that attach to the master record and even capture customer signatures for proof of acceptance once a job has been completed.
The app also allows for important warranty and contract information to be displayed to the service staff so that outstanding customer service can be delivered efficiently.
Here we are going to see how the service app is beneficial for your service staff. But before that, let's see which sectors will remain the biggest beneficiaries of this app.
Real-estate
Electrical installation
Machinery and plant engineering
Technical assistance for customers
Air condition and refrigeration plants
Facility and product management
Any industry that benefits from warranties, maintenance contracts and on-site service visits.
Also Read- How Much Does SAP Business One Cost?
Top Two Aspects of SAP Business One Service App
Tickets
View tickets
Edit, print, and share tickets
Check and synchronise tickets to the calendar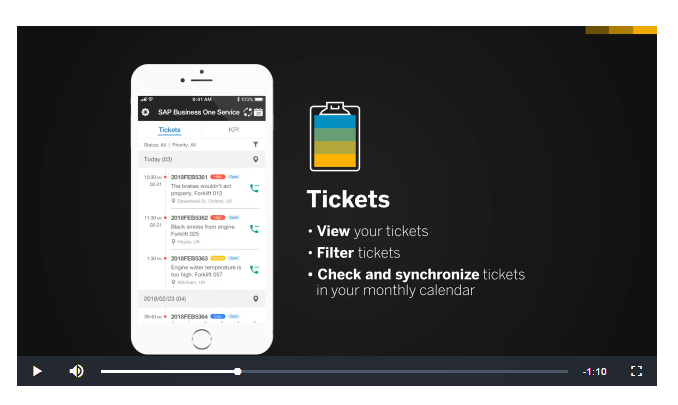 KPI (Key Performance Indicator)
Monthly closed tickets
Top 5 visited customers
Top 5 fixed terms
Yearly in-service rate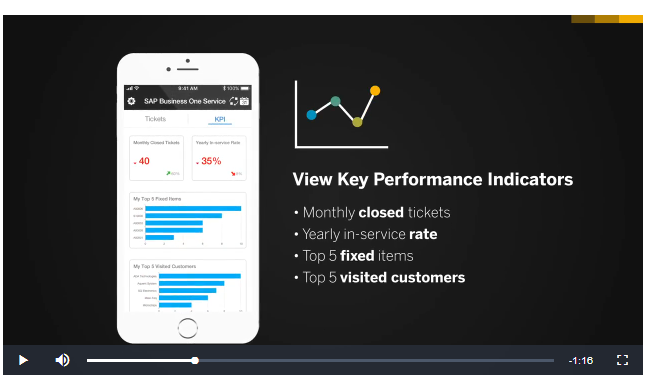 How SMEs can Improve Customer Services through SAP Business One Service App
SMEs have to deal with the lack of resources and technological advancements while striving for providing customer-focused services. There, SAP Business One Service mobile app can work wonders and assist SMEs to keep their customers happy. Let's take an imaginary scenario to understand the benefit of service app for SMEs.
Suppose, the service staff receives a service ticket with the customer's address. One of the field engineer or product experts visits the place and finds that the product needs a new part. Now, with the help of app, they can check the availability of this part and generate a sales order for the same. The customer can sign on the new order and closes the ticket through a smartphone. In a way, the issue is resolved quickly and the part is changed in the new appointment.
The entire process is illustrated below: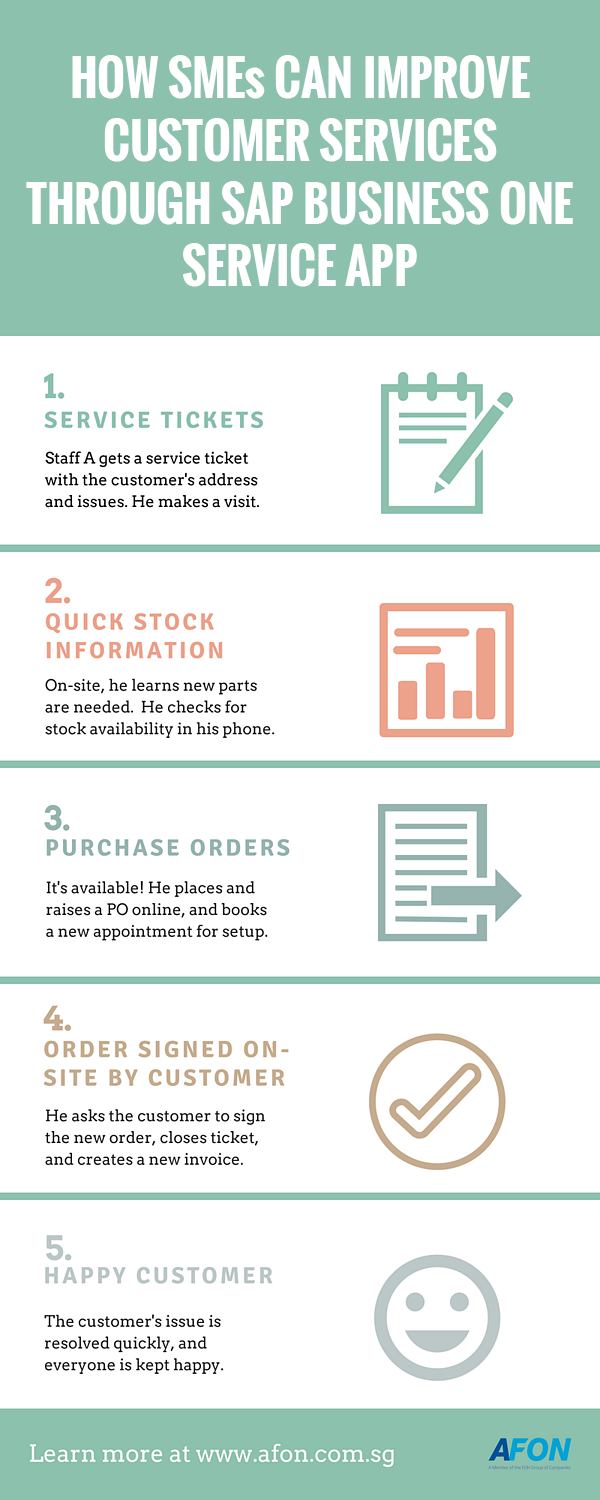 Also Read:
SAP Business One Sales App Keeps You Connected with Business Anytime
Key Benefits of SAP Business One Service Mobile App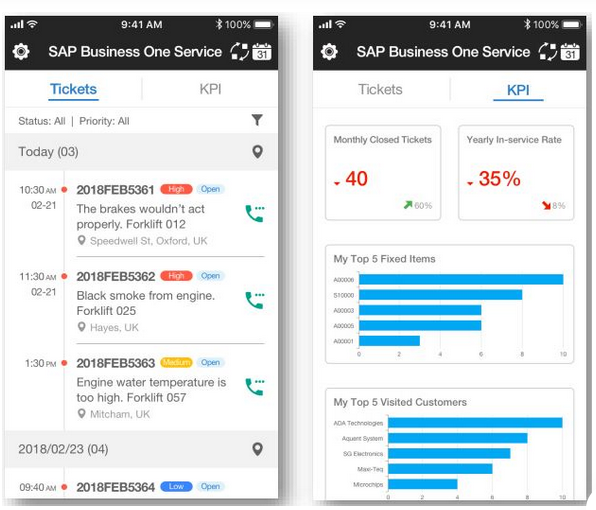 The service staff and field engineers can readily manage and resolve tickets with the help of the following benefits of SAP Business One Service mobile app.
They can review service contract details on the move
Safety feature for remote service workers is included
Secure access through Touch ID/Face ID
Service staff can easily create and view the sales orders for service tickets
Phone calling feature for remaining in touch with customers
Photo feature enables to capture necessary details or images
Location feature shows the customer's address on the map
Barcode Scanner facilitates identification of any item by the serial number
Attachment feature enables field engineers to include details of a service call
Service History feature enables them to go through the previous services
Ticket Summary enables the service staff to take the customer's sign after resolving an issue

Prerequisites for SAP Business One Service Mobile App

iOS

SAP Business One 9.3 PL04 version or higher for SAP HANA

iPhone 5 or newer and iOS 8.0 or higher

Supports– Service Layers, SAP Business One Analytics, App Framework

License– Professional, Limited CRM and Mobile Service users (New)

Security– Basic access authentication while register, license-based authentication for function level, and user-based authorisation for data. Apple Face/Touch ID enabled.

Languages– All 27 languages of SAP Business One

Setup requirements– Ensure Multiple Scheduling for Service Calls is activated in existing SAP Business One System.

You can go through the How to Guide for other important prerequisites.

Android

SAP Business One 9.3 PL80 or higher version for SAP HANA

Android 5.1 (Lollypop) or higher

SAP Business One Cloud

SAP Business One Cloud 1.1 PL09 or higher

SAP Business One 9.3 PL04 or higher version for SAP HANA

Install Mobile Service component first in the Cloud Control Center

Wrapping Up

The launch of SAP Business One Service mobile app has taken the total count of apps to three- original SAP Business One mobile app dedicated to finance and business users SAP Business One Sales mobile app for sales executives, and the SAP Business One Service app for field engineers and service staff. Altogether, these three apps assist your business to provide the best customer services and make them happy with an excellent experience

Silver Touch Technologies is a trusted SAP Partner worldwide. We have an in-house team of certified developers who can implement, support, and customise SAP Business One solutions for your business. You can get benefits of their expertise in developing industry-specific add-on solutions along with SAP Business One Solutions. Your quest for a one-stop destination for SAP Business One solutions ends here! Just send us your requirements at info@silvertouch.com. Our expert business consultants will get back to you soon.