How Digital Transformation Takes Retail Supply Chain to the Next Level
Digital transformation is one of the top priorities for various industry sectors and the retail industry is no exception! However, the pace of embracing digital change is relatively slow in the retail sector. As per the SAP report in 2018, only 22% of retailers were within the planning stage and 55% were still running pilot schemes in digital transformation. Digital transformation consulting has a major scope in the retail sector and in the coming years; we will see more adoption of the digital transformation concept.
Today, the consumers live in an 'always-on' world thanks to connected technologies that have improved convenience and comfort. The demands and expectations of the consumers are changing rapidly amid growing competition in the retail sector and retailers who fail to keep pace with this trend can lose in a big way. Digital transformation services act as a bridge between consumers and retailers by integrating advancements of emerging technologies. These services can help retailers protect customer loyalty.
Retail Supply Chain and Digital Transformation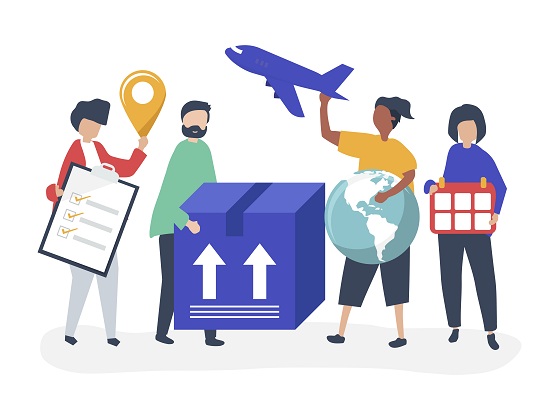 Out of stock and overstock situations remain a big headache for retailers. If the retail supply chain is not robust and reliable enough to meet the changing demands of consumers, these two situations become a norm for the retail company. In other words, the supply chain should be capable of providing what consumers want at any time. Digital transformation services can reduce replenishment times and optimise deliveries to meet demand.
How Digital Transformation Benefits Retail Supply Chain
Retailers can digitally transform their supply chain thanks to digital transformation consulting. Digital transformation can be a game-changer in the supply chain because of the following capabilities.
• Real-Time Visibility- It allows retailers to view the real-time status of products in different phases such as production, in transit, or inventory. This feature also enables retailers to make data-driven decisions based on actionable insights. Altogether, retailers can ensure the timely delivery of products.
• Automation- Digital transformation services aim at bringing automation in time-consuming data entry tasks. For example, manual recording of data on bookings, purchase orders, or schedules can be automated with the help of digital transformation solutions. Such automated processes easily streamline the workflow of supply chain managers while saving their time and efforts. As a result, managers can focus on value-added tasks like price negotiation and planning.
Also Read- Top Digital Transformation Trends to Watch in 2020
• Enhanced collaboration- All stakeholders can collaborate easily as digital transformation services bring factories, employees, departments, and logistics service providers on a single platform. Digital transformation enables them to share and access necessary information quickly. It is possible to get rid of multiple data sources like spreadsheets and emails with the help of digital transformation solutions. By not having to move in between applications, staff become more efficient.
• AI and ML advantage- Both AI and ML technologies can help companies predict customer demands in advance. The digital transformation solutions can also optimize the supply chain, and synchronize supply with predicted demand without human intervention. AI and ML technologies empower supply chain with cognitive functionality in the final stage of digital transformation.
All these features can increase the efficiency of the retail company and reduce TTM (Time to Market) for various products. As a result, retail companies can satisfy customers with timely deliveries.
Here, it is fair to mention that just digital transformation is not enough to take the retail supply chain to the next level. Retailers need to create a culture that encourages employees to collaborate more across the supply chain. The digitized supply chain can become more efficient if all the employees collaborate efficiently with one another and share data effectively. Proper alignment and better collaboration can be achieved through digital transformation consulting.
IDC has reported that there is a visible gap between retailers that are ready to implement digital transformation and others who sit on the fence without any clear goals. It is necessary to define clear goals before incorporating digital technology in the workplace. Digital transformation in the retail supply chain is a big opportunity, and startups or SMEs cannot afford to miss out. Transformation is a way to level the playing field with larger organisations that often have out-of-date legacy systems that are slow to react to change. Retail companies put their competitiveness and efficiency at stake by not implementing digital transformation.
How to plan an effective digital transformation of your supply chain
The retail supply chain needs a robust and forward-looking strategy for effective transformation. Digital transformation services can help you get creative and future-proof solutions for your processes. The digital transformation solutions provider considers the outlook, current trends, customer expectations, and competition. The supply-chain vision needs to be in line with the company's strategic goals. The effective plan for digital transformation is based on all these aspects and provides scope to improve and expand in an increasingly digitized business environment.
In Conclusion
Better decision-making, automation, innovation, and improved customer services are some of the major outcomes of digital transformation of the supply chain. Digital transformation services can bring radical changes in the retail supply chain by implementing data analytics and software solutions in the workplace. All you get is an improved and advanced supply chain with better functionality.
At Silver Touch Technologies, we provide the most proactive digital transformation consulting for your company. Our team of experienced professionals can handle any size of the project and transform the way your employees accomplish various tasks daily. Contact us at info@silvertouch.com to know more about our digital transformation services for various industry sectors.