SAP Business One or Microsoft Dynamics 365? Which ERP is better for Your Business?
When it comes to the selection of the right ERP, you need to focus on the type and nature of your business. Today, thanks to technological advancements, we have several ERP systems are available including SAP Business One, Microsoft Dynamics 365, and Oracle ERP. But, which ERP is right for your business? You may find this question difficult because you do not have any idea of trends and factors to be considered while selecting the ERP software for your company. The simple truth is that every vendor will try to persuade you that their solution is the best. What is important is that you have the correct information at your fingertips that will allow you to evaluate which solution offer the best fit for your business
Here we cover some noteworthy features of both SAP Business One (B1) and Microsoft Dynamics 365 to assist you to choose the most suitable ERP for your business. Though an unending battle between these ERPs is going on, we can identify the right one with the help of a quick comparison of their key features. But before that, let's have a brief introduction of both these players in the ERP market.
Microsoft Dynamics 365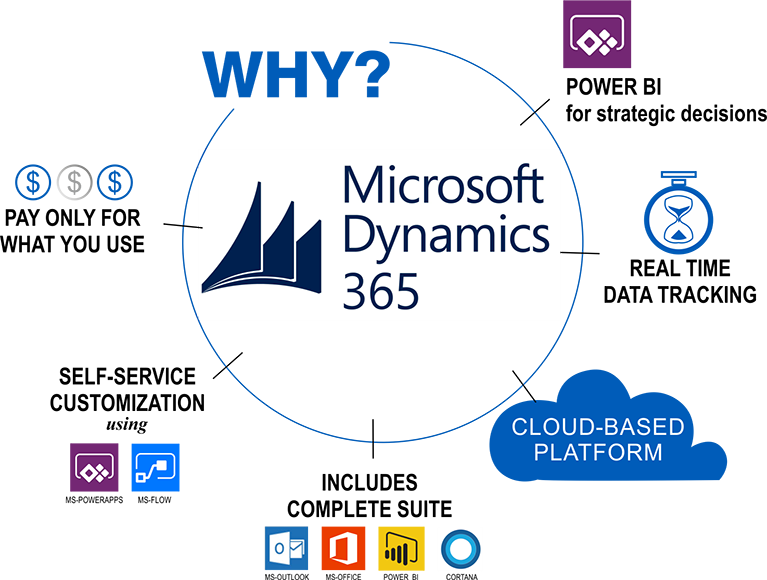 Developed and backed by Microsoft, Dynamics 365 for Finance and Operations is indeed a strong contender with a low costs and easier implementation as compared to SAP Business One and other players. It is built on the robust Microsoft infrastructure and it can be readily integrated with a plethora of Windows business apps like GoToMeeting, TouchMail, and OneNote. A simple look and feel with a short learning curve is another plus point of Microsoft Dynamics 365. Microsoft Dynamics 365 does however require many different applications in order to deliver a full experience as with SAP Business One. One of the key messages from Microsoft is a requirement to only pay for items required, however, experience has shown that this often leads to a misleading state of affairs when an initial lower cost of entry becomes rapidly increased depending on the requirements of the business. This is completely different from the SAP Business One experience where all modules are included in the initial purchase meaning no future costly surprises.
SAP Business One (B1)
SAP is arguably the leader in the ERP software market. With over 232,000 customers and revenue of €16. 22 billion, SAP has proven that is an ideal ERP for organisations. SAP Business One ERP can meet the diverse business needs of MNCs and SMEs alike. Though its cost is somewhat higher than other ERP players, SAP B1 is preferable for the companies that look for consistent and advanced ERP software. SAP B1 has a straightforward implementation and third-party solution can customise the software with ease.
Quick Look- Specifications
Let's have a side-by-side comparison between SAP Business One and Microsoft Dynamics 365.
| | | |
| --- | --- | --- |
| Comparison Points | | |
| ITQlick Score* | 90/100 | 82/100 |
| Pricing Score* | 8/10 | 4/10 |
| License Pricing (Per User) | Starting from $49 per user per month | Smaller Version Starts from $71 per user per month |
| Functionality Score | 44 | 13 |
| Fit for Small and Mid-size Businesses & Startups | Yes | Yes |
| Fit for Large Enterprises | No | Yes (Enterprise Version) |
* High pricing score indicates higher Total Cost of Ownership (TCO)
*ITQlick is a service designed to help software buyers choose the right tools for their organisation. Users simply input their business needs, and ITQlick s smart matching algorithm returns the best solutions for their business type. The higher the score, the better the fit.
Cost comparison between SAP Business One and Microsoft Dynamics 365
The real cost of ERP software is known as Total Cost of Ownership (TCO) that includes license fees, subscription fees, software training and customisation cost, required hardware, and support cost.
SAP Business One price starts from $49 per month per user. It has a higher cost than Dynamics 365. In the above table, SAP B1 has a pricing score of 8, which shows a higher average cost of ERP software. However, it is advisable to contact a reputable SAP Business One partner to understand the pricing structure of SAP B1 and get a quote for a customised enterprise-grade license.
Also Read: Why Choose SAP Business One over Sage 200
Comparison of Features between SAP Business One and Dynamics 365
In the competitive business scenario, it is necessary to consider the features and functionality of ERP software. You should select the ERP system that streamlines the process by managing workflows, providing reports, and meeting various business needs.
Let's discuss some aspects of Dynamics 365 before concluding this article. Since its launch in the year 2016, Dynamics 365 has delivered a confused message. It seems that the Dynamics 365 team has no clear direction as they keep on changing messages. Also, the parent company Microsoft is yet to successfully merge four acquired ERPs to come up with a next-gen solution. As recently as November 2018, Dynamics again changed track with the announcement that On-Premise would continue to be available after stating that it would only be available as a cloud offering.
When it comes to SMEs, it is proven that SAP B1 has a clear direction and unlike Dynamics 365, it offers control and flexibility while keeping the enterprise needs in focus. What's more, the price of Dynamics 365 has changed multiple times since its release and still, it looks more unsettled than before. ERP solution can impact on your business for a long-term and increase the long-term cost if it fails to deliver the desired objectives.
Major Issues with Dynamics 365
Here are a few major issues with Dynamics 365 that can restrain the growth of SMBs in medium to long term.
Complex upgrade

Both Dynamics AX and NAV solutions are too complex to upgrade on a regular basis. Update of these solutions is also expensive and therefore, SMBs may force to stick with an older version for quite a long time. Earlier versions of AX and NAV use a different architecture leading to significant costs when migrating custom reports and customised features to newer versions. In many cases, Microsoft resellers will often pitch a reimplementation rather than an upgrade as it is more cost effective.

However, there is then the requirement to rebuild customisations and reports. Often these are 'removed' under the smokescreen of there being more functionality in the core product and the client does not need to upgrade everything. A significant GAP analysis is therefore required. Dynamics is a victim therefore of its' own success. In the early years of NAV and AX they were sold as platform products that were easy to customise rather than focus on the core functionality. This gave rise to heavily customised implementations. The subsequent cost of the upgrade was often as much, if not more than the original implementation. This has led to many customers being version trapped where it is not cost-effective to upgrade to a later version.

Heavy dependence on Microsoft Products

This is one of the biggest drawbacks of Dynamics 365. The solution heavily relies on Microsoft products like Cortana, Power BI, and the like. Now, as a subscriber, you need to take separate subscriptions of these products and integrate them with Dynamics 365. It increases the overall product cost significantly and also creates the issues related to the integration of Microsoft products with the ERP solution. In many instances, Microsoft will include Office 365, Power BI and other stack products in the initial costs without showing what the year 2 costs will be once the new subscription kicks in. You need to purchase additional third-party add-ons for reporting and analytics as well such as ZAP reports, Jet Global etc. as there is a known weakness in the standard Dynamics reports which are costly to build as they require developer input rather than a system Admin being able to build these. As mentioned previously, SAP includes these elements as core. SAP owns Crystal reports, which is an acknowledged leader in reporting solutions.

Third-party influence on core product

Dynamics 365 needs the support of third-party add-ons for proper functioning. As a result, disparate databases and high dependence on connectors hamper the functionality of the solution. Only developers can complete or edit the Dynamics reports, whereas SAP enables users to build their reports.

High delivery time

Due to complexity and integration issues, Dynamics solutions are bound to miss the deadlines. Most of Dynamics ERP solution providers offer 'Time & Material' style quotes instead of fixed price quotations. Even consultants are uncertain about the deployment time as Microsoft has replaced AX and NAV versions with the Cloud-based architecture.

Ideal for broad industrial sectors

DY365 does not aim at providing industry and vertical-specific solutions. It addresses broad sectors like Distribution, Manufacturing, Retail, etc. Partners need to build customised solutions for specific verticals. Dynamics vertical solutions are therefore built, sold and supported by the partner community without a single point of support.
Here is a useful list of features of SAP Business One and Microsoft Dynamics 365 that can assist you to evaluate both the platforms.
SAP Business One: Sales Reporting, Business Intelligence Module, CRM and Human Resources Module, Inventory Management, Manufacturing and Procurement Module, Accounting Module. What's more, SAP Business One is highly scalable and provides great application breadth to address the ever-changing needs of growing businesses.
Dynamics 365: Budgeting & Forecasting, Core Accounting, Time and Expense Tracking, and Fund Accounting are some of the major features of Dynamics 365. It has multilingual capabilities and offers a quick transfer of information. But then, cross-platform support of Microsoft Dynamics 365 is limited and it is difficult to integrate this tool with a non-Microsoft product.
Parting Notes
SAP Business One software can be a preferred choice for SMBs and startups, whereas, large companies can opt for Microsoft Dynamics 365. But then, from regular updates to the advanced platform, SAP Business One has an upper hand over Dynamics 365. Therefore, you should consider various aspects and consult a reliable ERP services provider before making any decision.
Just drop us a line at info@silvertouch.com to give your company an SAP B1 advantage. As a reliable SAP partner globally, we have accomplished more than 125 SAP Business One ERP implementations. With more than 10 years of experience in SAP implementation, we are all set to integrate SAP B1 in your business system for ensuring an optimal outcome and a high ROI.