Importance of Wholesale Distribution ERP Software for Your Business
What prevents wholesale distributors from staying ahead of the curve in a highly competitive and shrinking market? The straightforward answer is the legacy and outdated solutions they use as business systems. Comprehensive and integrated cloud ERP solutions could provide a much-needed boost for improving their competitiveness. Such solutions not only assist wholesale distributors to thrive but also motivate them to innovate with a lot of business benefits.
Today, eCommerce has disrupted the entire wholesale and retail distribution worldwide. It is expected that globally, eCommerce revenue will surpass USD 2700 million by the year 2023. This whopping figure can bring a big reduction in revenue of wholesalers. It is no exaggeration in mentioning that wholesalers and distributors, who act as a channel between manufacturers and retailers, are the biggest victims of eCommerce and mCommerce revolutions in the market.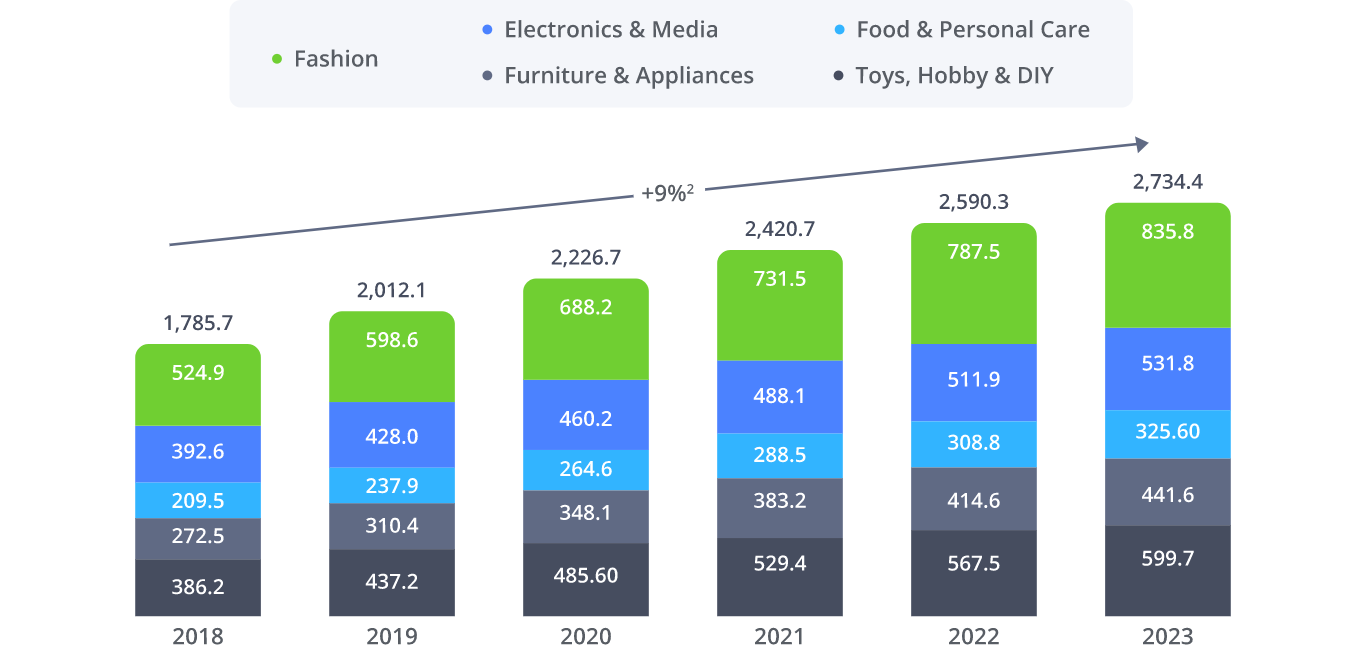 (Image Source)
As more manufacturers and retailers jump on the eCommerce bandwagon, they keep on bypassing wholesalers. The growing trend of online shopping among people has also contributed significantly to narrowing the wholesale market. In such a situation, technology lends a helping hand in the form of integrated wholesale distribution ERP software. This comprehensive, cloud-based ERP system enables wholesalers to manage every activity ranging from accounting to warehouse, and supply chain to shipping.
Here are major aspects that highlight the importance of cloud ERP in the wholesale sector.
Importance of Cloud ERP
Governments of developed and developing nations push for digital systems for the right reasons. Evolving technologies like AI and IoT can take the business of any size to the next level with the help of cloud computing. The cloud technology has paved a way for growth and innovation for SMEs and large companies. Cloud ERP is such a modern approach that enables the wholesale distributors to monitor their business effectively by providing them easy access to all business processes on the move.
Wholesalers can readily focus on planning and execution of differentiation strategies based on real-time insights provided by cloud ERP. It is not only cost-effective but also futuristic solution to keep wholesalers ready to cope with the challenges of the future. When it comes to increasing efficiency and productivity, a customised cloud ERP system can become a preferable option for the wholesalers. The SAP Business One Cloud solution makes all the difference and gives a competitive edge to wholesale distributors over their peers.
Major Business Benefits of Wholesale Distribution ERP Software
ERP and digital transformation go hand-in-hand. If you want to drive growth in a highly competitive global wholesale market, then wholesale distribution ERP software can certainly help you with a range of benefits. Let's have a look at key business benefits.
Save Time and Resources

It takes hours to carry out sales processes, financial management, and administrative tasks manually. Wholesale distributors particularly work in 'higher volume lower profit' model that needs powerful accounting ability and financial planning. The cloud-based ERP system can automate time-consuming tasks like submitting sales orders to the back office and monitor the delivery process. It enables employees and managers to save time.

Improve Services

Cloud ERP solutions can improve sales and distribution services while managing inventory management properly. They provide complete traceability of items and facilitate managers to see every activity on the dashboard. It further results in on-time delivery of goods that enable wholesalers to stay competitive in the market. Retailers certainly appreciate timely delivery and proper services. What's more, you can offer complete, damage-free, and competitively priced products.

Bring Automation

Interestingly, B2B customers or retailers also prefer self-service tools like consumers. They like to get instant access to order status and delivery details on the move through their mobile devices. Cloud ERP makes it possible and brings automation to your business. With faster shipping and automated billing processes, you can win the hearts of retailers!

Offer Omnichannel Experience

Your managers and retailers can get omnichannel experience through a customised cloud-based solution like SAP Business One Cloud. Be it sales history or order status, you can see every information on every device anytime. Also, actionable insights can assist you to make informed decisions to provide a consistent and pleasant experience to retailers. It reflects in balance sheet and growth in profit.
Conclusion…
If you want to run a wholesale distribution business successfully, you need to keep the pace with changes in market trends, workforce needs, economy, pricing models, and the like. Cloud ERP is a technology boon to enable you to face all these challenges. It can make your business more profitable while providing a higher ROI over a long time. But then, you need to opt for a reliable and robust ERP solution like SAP Business One Cloud solution. Need more information? Just send us an email at info@silvertouch.com. Our expert consultants are happy to help!